Cosmetic Dentistry Practice in Central New Jersey Unveils Newly Enhanced Website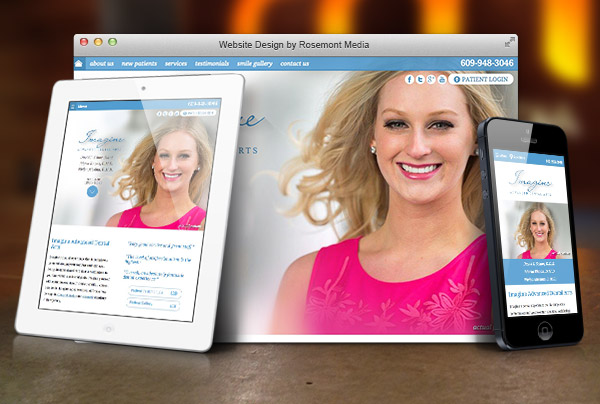 Dr. David I. Schor, Dr. Maria Rhode, and Dr. Vivien Mesina of Imagine Advanced Dental Arts enhanced their practice's website with a responsive design and several unique, patient-friendly features.
Lawrenceville, NJ — Imagine Advanced Dental Arts, a cosmetic dentistry practice in Central New Jersey, recently announced the launch of its newly upgraded website developed in collaboration with online marketing agency Rosemont Media. Outfitted with a responsive design that adapts to the screen dimensions of any device capable of accessing the Internet, the customized site serves as an inclusive, user-friendly resource for people interested in porcelain veneers, dental implants, TMJ therapy, and numerous other dentistry treatments and services.
In an effort to convey the relaxing yet state-of-the-art environment of their practice, David I. Schor, DDS, Maria Rhode, DMD, and Vivien Mesina, DMD requested that Rosemont Media employ a comforting color scheme accented with shades of blue throughout the website, as well as equip the homepage with an innovative 3D effect that enables new slides to open and close like curtains as the viewer scrolls up and down the page. Other key features of the site include:
Custom-written pages that detail doctor biographies, office information, and specific treatments and services available at Imagine Advanced Dental Arts.
A "New Patients" tab that hosts valuable information about the practice, including an interactive tour viewers can utilize to take a virtual walk through the office.
An expansive smile gallery showcasing before-and-after photos of patients who received dental care from Drs. Schor, Rhode, and Mesina.
Several patient testimonials, including videos in which actual patients share their individual stories and experiences.
Behind the scenes, the newly enhanced website is outfitted with the latest, most advanced dental SEO strategies available in Internet marketing today. From the customized content to the site's unique and innovative design, the website is optimized to rank competitively for popularly searched terms within the practice's online marketplace.
Ultimately, Drs. Schor, Rhode, and Mesina are thrilled to release a modernized, user-friendly website that mirrors their devotion to remaining up-to-date across all aspects their practice, and they hope anyone interested in general, cosmetic, or restorative dentistry will view the site as a respected resource for learning about their oral care options.
About Imagine Advanced Dental Arts
Imagine Advanced Dental Arts is a leading dental practice located in Lawrenceville, NJ. Led by Dr. Schor, Dr. Rhode, and Dr. Mesina, the practice offers a comprehensive span of treatments and services ranging from cosmetic and restorative dentistry to orthodontics and specialized family care. In addition, Imagine Advanced Dental Arts also provides treatments for TMJ/orofacial pain, snoring and sleep apnea, and facial rejuvenation.
To learn more, visit imaginedentalarts.com.