Dentist in Encino Reveals New Responsive Website for Improved Patient Experience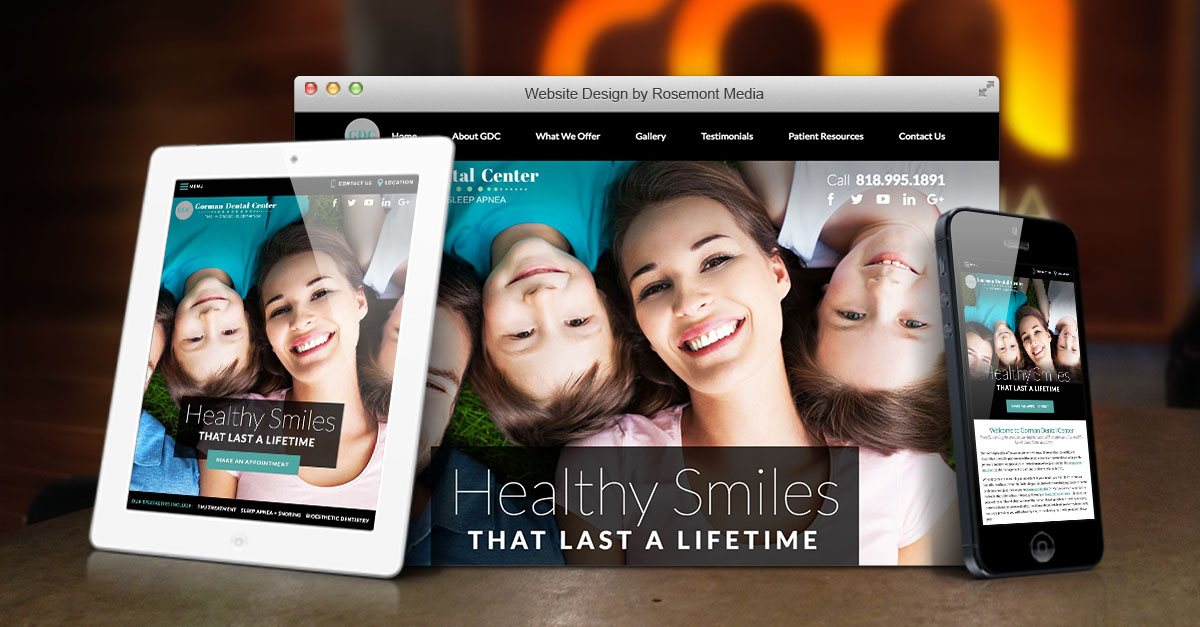 Encino dentist Martin N. Gorman, D.D.S. recently launched a newly designed responsive website for his practice.
Encino, CA — Focusing on health and function above all else, Encino dentist Martin N. Gorman, D.D.S. and the team of dental professionals at Gorman Dental Center work together to bring out the natural beauty in each of their patient's smiles. When working with dental marketing firm Rosemont Media to create a new website for his practice, Dr. Gorman wished to have his dedication to both function and aesthetics reflected in the design. The recently launched website for Gorman Dental Center boasts an attractive, clean design with an easy-to-navigate menu that helps visitors learn more about available care options, including TMJ relief, dental implants, Invisalign®, sleep apnea treatment, and myofunctional therapy. The site also provides viewers with details about Dr. Gorman and his team, and it displays a variety of patient reviews as well as a before-and-after photo gallery to help potential new patients gain more insight into what they can expect.
In addition to the educational information available, the site is equipped with a multitude of "behind the scenes" components, such as a revolutionary responsive design that enables the website to be viewed in its entirety on smartphones, tablets, and desktop computer screens. This innovative element allows for a seamless experience on any Internet-ready device without sacrificing the content or features of the website.
To further enhance the dental practice's online visibility, Dr. Gorman elected to employ dental SEO and content marketing services from Rosemont Media. Designed to boost search engine rankings, these strategies focus on meeting the needs of patients, ultimately helping to connect them to skilled dental professionals such as Dr. Gorman. In the end, Dr. Gorman says he hopes the advanced website can help him reach more patients in an effort to provide them with state-of-the-art dental treatments that can create improved oral health, aesthetics, and overall well-being.
About Martin N. Gorman, D.D.S.
With over 40 years of experience, Dr. Martin Gorman serves the Encino and Sherman Oaks area at his private dental practice, Gorman Dental Center. Using bioesthetic dentistry techniques, Dr. Gorman seeks to treat underlying issues rather than simply addressing resulting symptoms. He believes that focusing on function can ultimately provide patients with improved health and aesthetics. Dr. Gorman is a member of various professional dental organizations, including the American Academy of Dental Sleep Medicine, the International Congress of Oral Implantology, and the American Academy of Cosmetic Dentistry. Additionally, he is Accredited by the American Academy of Dental Sleep Medicine and is a Fellow of the International College of Oral Implantology, the International Academy of Dental Facial Esthetics, and the American Academy of Orognathic Bioesthetics. Dr. Gorman is available for interview upon request.
For more information about Dr. Gorman and his practice, visit mgormandental.com and facebook.com/MGormanDental.
Contact:
Gorman Dental Center
5363 Balboa Boulevard
Suite 446
Encino, CA 91316
(818) 995-1891
Rosemont Media
(858) 200-0044
www.rosemontmedia.com