Sleep Apnea Dentist in Los Angeles and Redondo Beach Area Launches New Website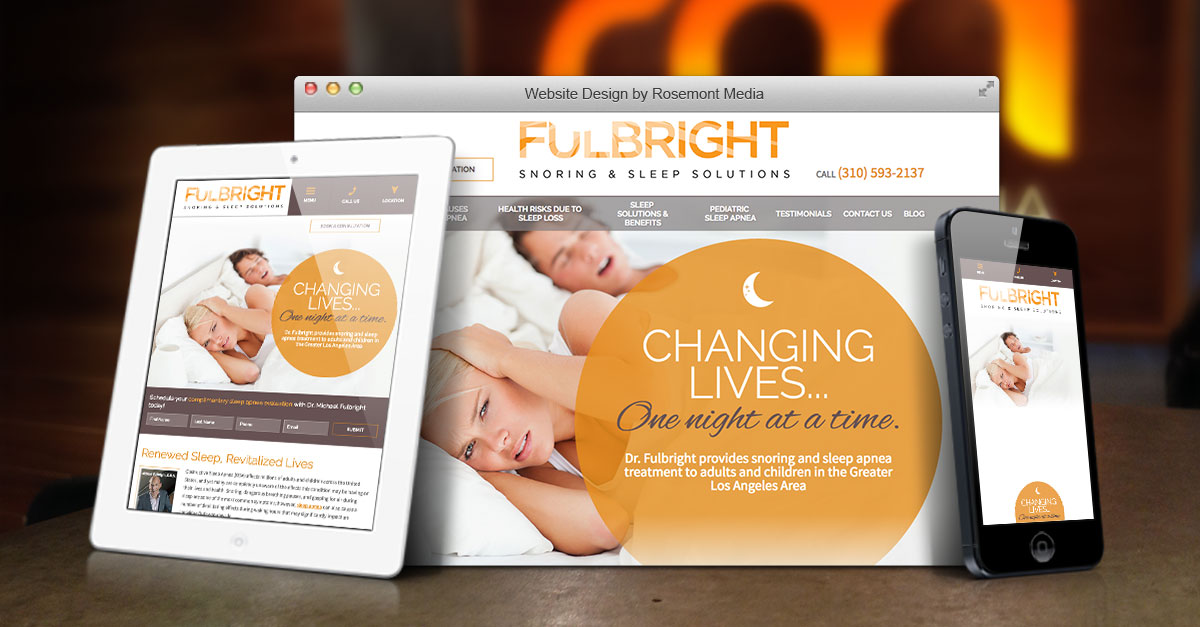 Dr. Michael Fulbright's new website focusing on sleep apnea causes, risks, and advanced treatment options for adults and children has been designed to provide easily accessible information on a range of digital devices.
Los Angeles, CA – Dr. Michael Fulbright, a dentist offering sleep apnea treatment in Los Angeles and the Redondo Beach area, is unveiling a state-of-the-art website focusing on sleep apnea. Designed to provide a helpful resource on a common health concern that affects people of all ages across the nation, the new site for Fulbright Snoring & Sleep Solutions covers a comprehensive range of information on obstructive sleep apnea and snoring. These are conditions that often go unnoticed by those who suffer from them and can cause debilitating – even life-threatening – health problems.
Dr. Fulbright's new site has been developed utilizing a responsive website design, which allows it to be easily accessed and navigated on a variety of digital platforms, including desktop and laptop computers, smartphones, and tablets. The website includes a plethora of informative content to help viewers understand the causes of sleep apnea, the risks of sleep apnea, and the new snoring and sleep apnea treatment options available. In addition, the site offers several tips on how to improve "sleep hygiene" and how one can enhance both their health and livelihood by simply making sure they are sleeping well.
An estimated 20% of healthy adults in the United States are affected by sleep apnea. It's also been estimated that 1 to 4% of children have a sleep breathing disorder, and 3 to 12% of children consistently snore during sleep. Obstructive sleep apnea can cause dangerous breathing pauses of multiple seconds while one is sleeping, and ultimately raise the risk of serious health conditions, including sudden cardiac death. Since the condition can cause a number of symptoms that individuals may not associate with a sleep disorder, many people are unaware they suffer from it unless a loved one has observed their sleeping habits.
Dr. Fulbright hopes his new website, developed with San Diego-based dental website design firm Rosemont Media, will help individuals who may be suffering from sleep apnea find the information they are looking for. He says that the array of innovative, custom-designed treatment options available at his practice – one of the few in the greater Los Angeles area that is Medicare-approved for certain kinds of sleep apnea appliances – may offer an effective solution that can help patients achieve a much healthier, more restful night's sleep.
About Michael Fulbright, DDS
Dr. Michael Fulbright is a member of the American Academy of Dental Sleep Medicine, the American Dental Association, the American Academy of Implant Dentistry, the American Academy of Cosmetic Dentistry, the West Los Angeles Dental Society, and many other organizations. After earning his Doctorate in Dental Surgery from the University of Southern California School of Dentistry, Dr. Fulbright pursued continuing dental education at the Pacific Implant Institute and at UCLA's Advanced Aesthetic Continuum. He is experienced in a full range of advanced treatment techniques for both adults and children suffering from sleep apnea and snoring. In addition to procedures for sleep apnea, Dr. Fulbright offers a comprehensive array of cosmetic, general, and restorative dental treatments at Fulbright Cosmetic & Reconstructive Dentistry. He is available for interview upon request.
For more information about Dr. Fulbright and his practice, visit fulbrightsleep.com or facebook.com/FulbrightDental.