New York Facial Plastic Surgeon Launches Responsive Website Design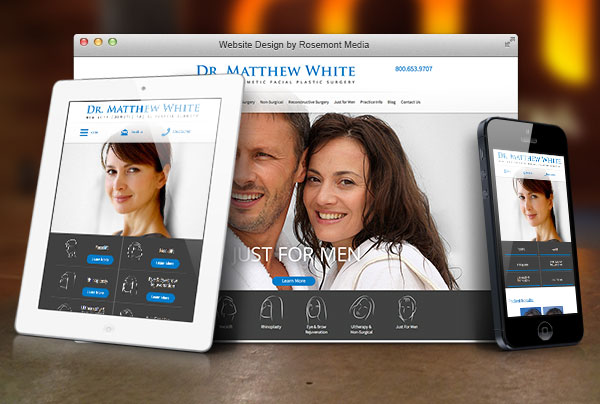 Dr. W. Matthew White introduces his practice's upgraded facial plastic surgery website, highlighting the advanced new features that provide ease of use for viewers.
New York, NY – To provide patients with an enhanced resource for learning, Dr. W. Matthew White, a facial plastic surgeon in New York, has upgraded his website with a new design that has responsive capabilities. The site has also been revamped with updated content on procedural pages to help patients better understand what specific treatments entail. Dr. White is pleased to announce the launch of his new practice website and believes it will provide a more user-friendly viewing experience.
When patients visit the facial plastic surgery website, they can find a simple, organized layout that automatically adjusts its dimensions to the viewer's Internet device. This responsive feature allows the website to be viewed on varying screen sizes, such as a personal computer, tablet, or smartphone, without having to scroll left and right to see the content's entirety.
In addition to its enhanced design, the website has been updated with new, original content for the purpose of educating patients on what they can expect from various treatment options. The site's content has also been optimized using the latest medical SEO strategies to improve Dr. White's visibility online, allowing more people to find the comprehensive plastic surgery resource
Dr. White worked closely with medical website design firm Rosemont Media for the creation of his new practice website. WIth its advanced new features, Dr. White hopes his website proves to be beneficial and convenient for people seeking information about facial plastic surgery.
About W. Matthew White, MD
Dr. White is a double board-certified surgeon who specializes in facial plastic and reconstructive surgery. He earned his medical degree from The Medical College of Ohio and completed an internship at Massachusetts General Hospital, Harvard Medical School in the Department of Surgery. Dr. White then trained in a residency in Head and Neck Surgery at the Massachusetts Eye and Ear Infirmary, Harvard Medical School. He studied in a Fellowship in Laser Medicine and Surgery at the Massachusetts General Hospital, Harvard Medical School and in another Fellowship in Facial Plastic and Reconstructive Surgery at NYU Langone Medical Center, NYU School of Medicine. He is a member of several professional organizations, including the American Academy of Facial Plastic & Reconstructive Surgery, the New York Facial Plastic Surgery Society, and the American Society for Laser Medicine & Surgery. Dr. White's practice is conveniently located in Central Park across from Pierre Hotel. He is available for interview upon request.
For more information, visit drmatthewwhite.com, facebook.com/drmatthewwhite, and plus.google.com/+Drmatthewwhite/.