San Diego Facial Plastic Surgeon Unveils New Practice Website Design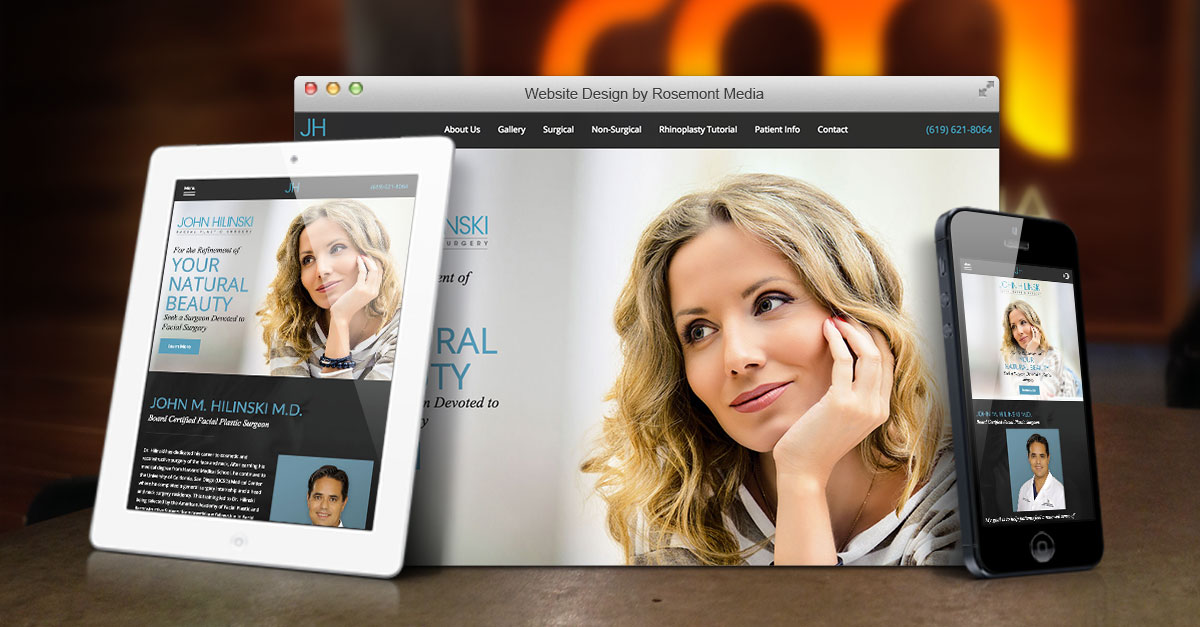 Dr. John Hilinski launches a new custom website design for his facial plastic surgery practice to provide a more modern-looking online resource for current and prospective patients.
San Diego, CA – In an effort to enhance his practice's online presence, board-certified facial plastic surgeon John Hilinski, MD recently launched a new design for his website. The San Diego-based surgeon was seeking to update his website with a fresh, modern look. This included an entirely new color scheme and a rebranded logo. The new website exhibits a soft, clean feel that reflects the calming, professional environment Dr. Hilinski offers at his practice.
A major focus of Dr. Hilinski's new practice website is his tutorial on rhinoplasty, which is one of the most common procedures he performs. This acts as a comprehensive resource for those researching variations of the rhinoplasty procedure, as well as demonstrates Dr. Hilinski's advanced expertise in performing the complex surgery. In addition to the rhinoplasty tutorial, visitors of the site can also find a large collection of procedural pages, many of which include frequently asked questions and case studies.
The information previously found on Dr. Hilinski's website, as well as new custom-written content, has been placed within a responsive website design, allowing people to conveniently view his site on a variety of Internet-compatible devices—from desktop computers to tablets and smartphones. The website has also been revamped with updated best practices for search engine optimization, with the mission of helping Dr. Hilinski be more visible within relevant search queries.
For the development of his new practice website design, Dr. Hilinski collaborated with Rosemont Media, a local digital marketing firm that he has worked with since 2011. Dr. Hilinski believes his upgraded website better aligns with the type of atmosphere he has established at his practice—a state-of-the-art environment with patient education being a top priority.
About John Hilinski, MD
Dr. Hilinski is double board certified in Facial Plastic and Reconstructive Surgery as well as Head and Neck Surgery. He completed his Medical Doctorate from Harvard Medical School in Boston, and continued to the University of California, San Diego for his residency in Head and Neck Surgery. Following his training, Dr. Hilinski was selected for a fellowship in Facial Plastic & Reconstructive Surgery in Chicago, training under world-renowned facial plastic surgeon Dr. Dean M. Toriumi. Today, Dr. Hilinski performs a wide range of cosmetic and reconstructive procedures at his San Diego practice, with particular expertise in rhinoplasty. He is available for interview upon request.
For more information, visit drhilinski.com or facebook.com/drhilinski.