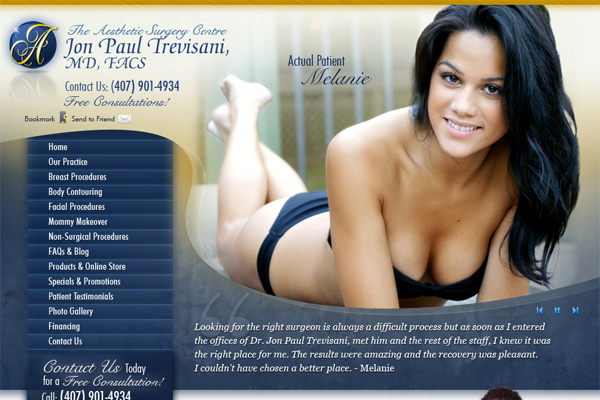 Project Details:
Launch Date:
May 2011
Page Count:
39
Services Overview:
Custom Design, SEO, CMS, Video, Blog, and Photo Upload Gallery
Compatibility:
Desktop, Mobile
Visit Website:
Categories:
Orlando plastic surgeon Dr. Jon Paul Trevisani is a board-certified plastic surgeon and the medical director of the Aesthetic Surgery Centre. In collaboration with our medical website design team, Dr. Trevisani has created an aesthetically pleasing and comprehensive cosmetic enhancement network that represents his philosophy as a plastic surgeon. Designed with the latest advancements in web development technology, www.jptrev.com provides visitors with an in-depth look into the Aesthetic Surgery Centre, further supported by a doctor biography, a before-and-after gallery, and social media buttons to encourage the formation of an online cosmetic enhancement community.
Fully-optimized for all major search engines and social networks, including Google, Bing, Facebook, and Twitter, Dr. Trevisani's website is designed to increase online visibility and overall performance, while providing his patients with the online support they need. However, by designing for his patients first, Dr. Trevisani hopes to better educate, and better develop his patients' plastic surgery goals and expectations.
Visit www.jptrev.com for more information, and then contact the Rosemont Media search engine marketing and website design team.