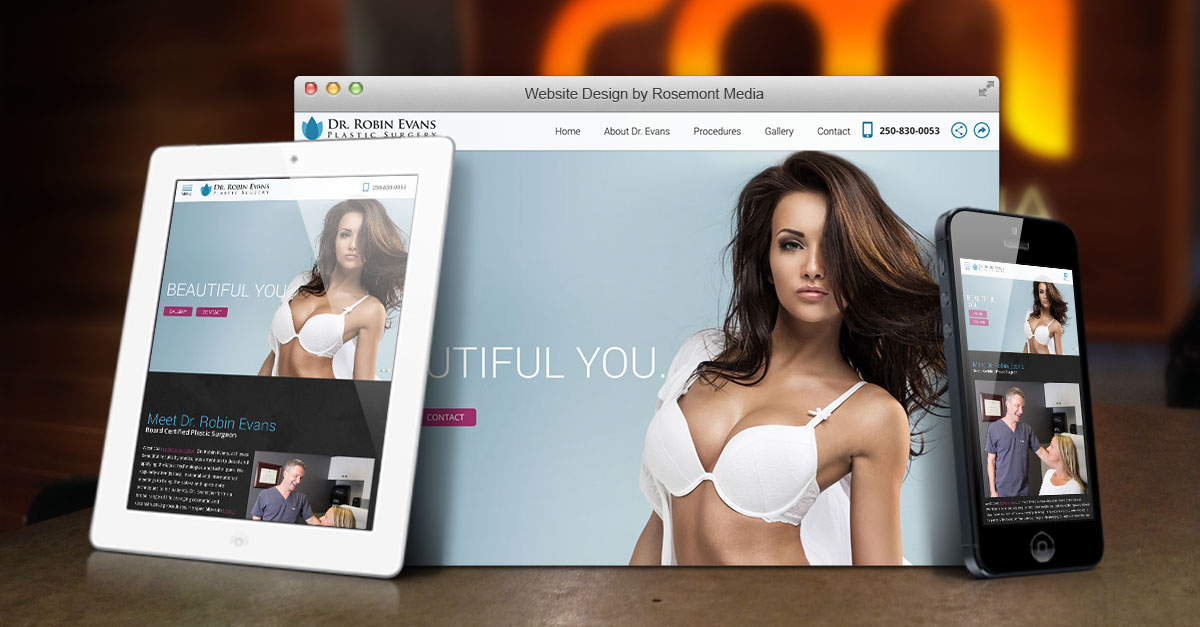 Project Details:
Launch Date:
May 2017
Page Count:
37
Services Overview:
Custom Responsive Design, SEO, CMS, Photo Upload Gallery and Blog
Compatibility:
Desktop, Tablet, Phone
Visit Website:
Categories:
Dr. Robin Evans, a plastic surgeon in Vancouver, sought to create an online platform where he could highlight the serenity and novelty of his cosmetic and reconstructive surgery practice. To bring this concept to fruition, he recently conferred with the team at Rosemont Media to develop a fully responsive, search engine optimized website reflective of his unique practice and services. A simplistic color palette in which cool shades of blue meet calming neutral tones comforts users as they enter the site. This placid energy is reflective of Dr. Evans' practice overlooking the beautiful Campbell River. Current and prospective patients enjoy easy and immediate access to both a photo gallery of procedure results, as well as a comprehensive page of testimonials, on the eye-catching homepage and subsequent landing pages. This creates an effortless user experience, poised to give individuals a wealth of information that can help them make an informed decision about their treatment. Advanced SEO and content marketing strategies ensure Dr. Evans' website is extensively visible to those in the local and regional community, allowing it to act as a convenient, instructive, and visually appealing window into his comprehensive plastic surgery practice.
To see the final outcome, be sure to visit www.drevansplasticsurgery.com, and contact Rosemont Media today to take your online presence to the next level.