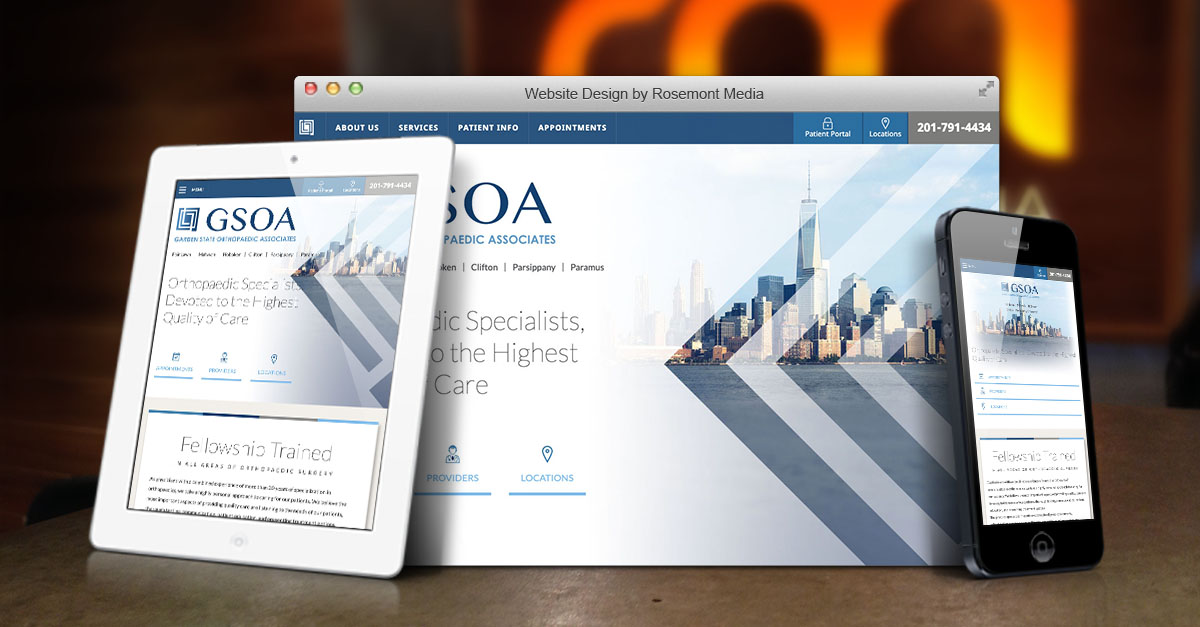 Project Details:
Launch Date:
May 2019
Page Count:
57
Services Overview:
Custom Responsive Design, SEO, Custom Content, and CMS
Compatibility:
Desktop, Tablet, Mobile
Visit Website:
Categories:
Garden State Orthopaedic Associates features a state-of-the-art surgical center, six offices, and an experienced team of orthopaedic surgeons and physicians assistants. Through a wide range of diagnostic tools, surgeries, treatments, and physical therapies, the New Jersey orthopaedic specialists at Garden State Orthopaedic Associates help patients overcome a broad spectrum of musculoskeletal injuries and conditions.
In an effort to create an up-to-date website that showcased the world-class care and treatment options available through Garden State Orthopaedic Associates, the team reached out to the experts at Rosemont Media to develop a fully customized website designed to meet all of their needs:
The responsive design of the new website allows it to function optimally on mobile internet-connected devices and desktop computers alike.
Custom crafted content and advanced search engine optimization (SEO) work together to educate website visitors and enhance website visibility in relevant Google searches.
Every aspect of the site is designed to create an optimal user experience, which allows visitors to quickly find the information they are looking for, get a strong sense of what the practice is all about, and be able to quickly contact the office with questions or schedule an appointment.
We invite you to experience the custom-built Garden State Orthopaedic Associates website for yourself by visiting www.gardenstateortho.com.
.