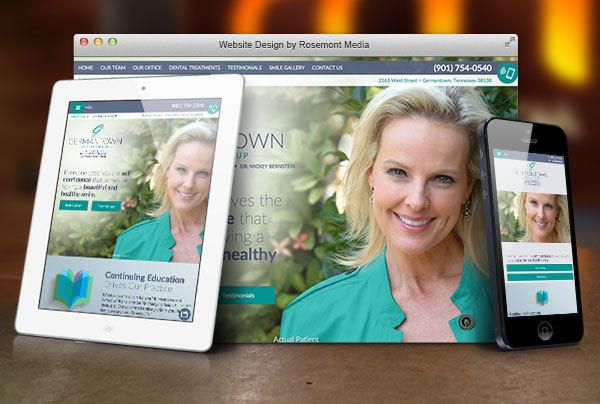 Project Details:
Launch Date:
August 2015
Page Count:
26
Services Overview:
Custom Responsive Design, SEO, CMS, Custom Content, Photo Upload Gallery, and Blog
Compatibility:
Desktop, Tablet, Phone
Visit Website:
Categories:
The new website for Germantown Dental Group embraces some of the latest design concepts to provide viewers with comprehensive content in a unique and exciting way. The practice offers a wide range of cosmetic, general, and restorative dental treatments and has a variety of unique aspects they wanted to showcase on the new site. With that in mind, Rosemont Media created a vast, responsive website utilizing design elements that can give the reader a pleasant viewing experience without feeling overwhelmed.
On the home page, you will see how effective the fixed image scrolling technique can really be. Fixed imagery combined with sleek text animation gives the page an illusion of movement and vitality while serving practical functions at the same time. The top navigation is also "fixed" – which keeps it at the top of the screen no matter how far down the viewer scrolls. This allows for more convenient navigation throughout the site. Germantown Dental Group's new website also includes four custom landing pages to separate the content into easy-to-find sections based on which type of dentistry the viewer may be looking for. Also, the images of people you see throughout the site? The majority of them are all actual patients of Germantown Dental Group!
In addition to detailed descriptions on advanced procedures, informative biographies of each dentist, and a before-and-after smile gallery, the website makes great use of videos supplied by the practice that feature doctor-hosted segments covering a number of topics as well as interviews with patients themselves. It also includes the latest dental SEO strategies and an updated blog, which will make it easier to provide a continued stream of original content onto the site and increase its chances of being ranked high on major search engines.
Take a look at www.memphissmiledesigns.com to see how it all works, and please contact our experts at Rosemont Media with any questions you may have. If you are considering a new website, or an upgrade from your current site, we can create a custom-designed, beautiful new online presence for your practice that helps you stand out in a crowded field!