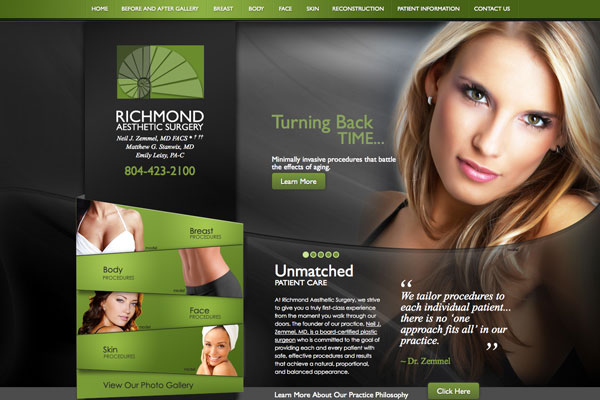 Project Details:
Launch Date:
October 2012
Page Count:
65
Services Overview:
Custom Responsive Design, SEO, CMS, Video, Photo Upload Gallery, and Blog
Compatibility:
Desktop, Tablet, Mobile
Visit Website:
www.richmondplasticsurgery.com
Categories:
Dr. Neil Zemmel of Richmond Aesthetic Surgery recently collaborated with Rosemont Media to develop a dynamic, user-friendly website in an effort to strengthen patient care. The plastic surgery website design contains a variety of dynamic features such as drop-down menus with detailed procedural information, graphic animations, a before-and-after gallery, patient testimonials and links to the practice's social media profiles. Dr. Zemmel says that by combining an easy-to-navigate interface with a personalized design, users will be be able to enjoy a welcoming online experience. He adds that the website integrates educational information on a number of plastic surgery procedures, including breast augmentation, tummy tuck and facelift surgery, which can help patients learn which plastic surgery procedure is the most suitable for their aesthetic needs.
Rosemont Media's skilled team of SEO writers, graphic designers and developers optimized content for search engines to assure the new site receives the highest visibility and rankings. The well-crafted and fully customized website displays the doctors' dedication to patient care and serves as a reliable source for patients to get the personalized information they need.
For more information on the customized website design Rosemont Media can create for your practice, visit richmondplasticsurgery.com.