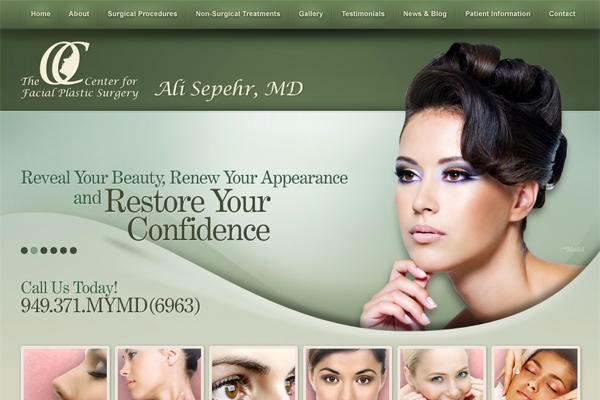 Project Details:
Launch Date:
May 2011
Page Count:
28
Services Overview:
New Custom Design, CMS, SEO, Custom Content, Photo Upload Gallery and Blog
Compatibility:
Desktop, Mobile
Visit Website:
www.orangecountyfacialplasticsurgery.com
Categories:
Orange County facial plastic surgeon Dr. Ali Sepehr set out to create an innovative website that would enhance his patients' experience with his practice. In collaboration with the medical website design team at Rosemont Media, Dr. Sepehr has created a comprehensive and educational network to represent The OC Center for Facial Plastic Surgery online. By including detailed descriptions of all procedures offered, a before-and-after photo gallery, a doctor biography, and patient testimonials, all organized in an aesthetically pleasing design framework, Dr. Sepehr has provided exactly that.
Developing a strong patient-doctor relationship online is also important to Dr. Sepehr, which is why including social media buttons within his website was extremely important during the design process. By providing his patients with easy access to his practice's Facebook and Twitter pages, Dr. Sepehr hopes to foster the growth of an informative online community where he can interact with current and potential patients, and potentially help develop their cosmetic enhancement expectations before their initial consultations.
Visit www.orangecountyfacialplasticsurgery.com to learn more about the website design and search engine marketing strategies available with Rosemont Media.