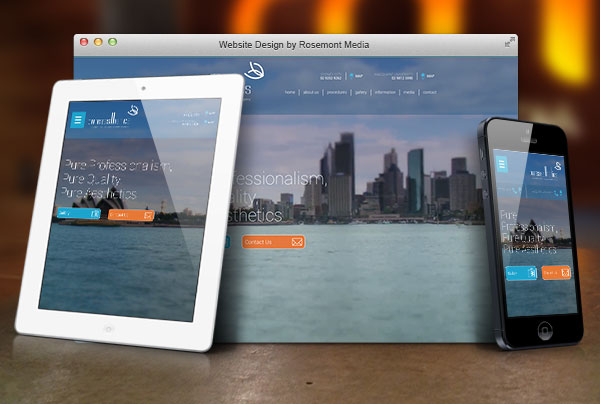 Project Details:
Launch Date:
November 2014
Page Count:
67
Services Overview:
Custom Responsive Design, JavaScript Slide Show, SEO, CMS, Custom Content, Photo Upload Gallery, and Blog
Compatibility:
Desktop, Tablet, Mobile
Visit Website:
Categories:
Dr. Steve Merten and his team at Pure Aesthetics have collaborated with Rosemont Media for the creation of their new responsive website design. The Sydney plastic surgery practice offers a wide range of procedures, including rhinoplasty, abdominoplasty, breast enlargement, and non-surgical dermal fillers. Each page, outfitted with the latest medical SEO strategies, can be found in the organized navigation menu at the top of the site, which was designed to help patients more easily find the information for which they are looking.
The website has undergone a complete makeover with a new, dynamic design that includes a fixed video background. This feature entails a video playing behind the homepage content to communicate the personality of the practice and their desire to provide friendly, informative care. Additionally, viewers will find that the website's dimensions adjusts according to their Internet device's screen size. This is possible through its responsive capabilities. Despite whether a personal computer, tablet, or smartphone is being used to access the website, visitors will be able to view the entire width of the website without having to scroll from left to right. As a responsive website, it will automatically resize to fit the correct dimensions for a more convenient viewing experience.
To view an example of a plastic surgery website designed by Rosemont Media, you can visit pureaesthetics.com.au.