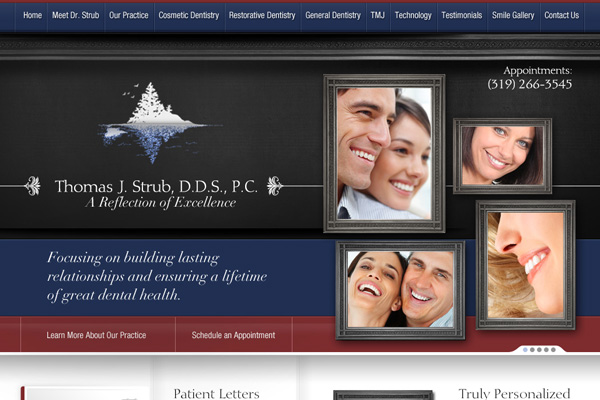 Project Details:
Launch Date:
January 2012
Page Count:
50
Services Overview:
Custom Design, SEO, CMS, JavaScript Slide Show, Photo Upload Gallery and Blog
Compatibility:
Desktop
Visit Website:
Categories:
Cedar Falls cosmetic dentist Dr. Thomas Strub's website is artfully crafted and intentionally designed to showcase his skill in dental procedures and the attention to detail that makes his practice stand out. From seamless integration of graphics to engaging, reader-friendly content, Rosemont Media sought to bestow elegance and poise to the site, enticing readers with both its educational value and aesthetic allure. Featuring 100% custom text and image creation, Dr. Strub's site offers patients a unique online experience that bears testament to his caring, compassionate practice. Some of the most notable features of his website include a structured, yet eye-catching layout, drop-down tabs, an expansive photo gallery, and social media connectivity through Facebook. Whether patients are looking for dental implants or teeth whitening in Cedar Falls, Dr. Strub's website is sure to provide patients with the right tools and connections to satisfy their dental needs.
Rosemont Media's skilled team of writers, developers, and designers also utilized the latest in Internet, social, and search marketing tactics to streamline Dr. Strub's website for success in the expanding world of dental advertising and promotion. By combining the most advanced dental website design strategies with our extensive experience in the business, Dr. Strub's new site equipped to showcase his practice in a tasteful and engaging format.
To get a closer look at what Rosemont Media can do for you and your practice, visit strubdds.com.