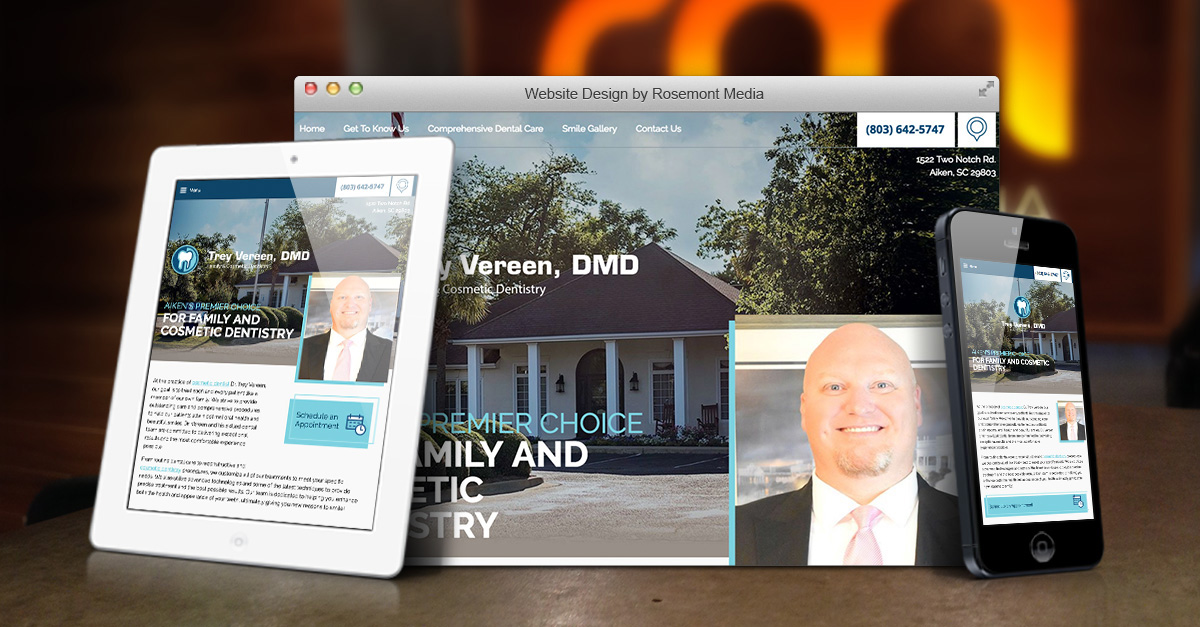 Project Details:
Launch Date:
January 2018
Page Count:
12
Services Overview:
Custom Responsive Design, SEO, Custom Content, CMS, Photo Upload Gallery, and Blog
Compatibility:
Desktop, Tablet, Mobile
Visit Website:
Categories:
For Dr. Trey Vereen, a cosmetic dentist in Aiken, it was time to reboot his website to provide viewers with a sleek and streamlined virtual window inside his practice. So, Rosemont Media stepped in to help create a powerful website that can give individuals not just an informative experience, but also a pleasant one.
Dr. Vereen's new, customized website has been developed with a responsive design and the latest dental SEO strategies that can help his practice stand out amongst a crowded field. The site features an array of images depicting the beauty of both the office and the town for which it is located, reflecting the comfortable, home-like atmosphere the practice presents. A detailed biography of Dr. Vereen, an overview of the procedures he offers, a before-and-after Smile Gallery, and highlights of the practice's advanced technology are just some of the eye-catching aspects of the site. Plus, the website includes an updated blog, as well as downloadable patient forms to enhance convenience for prospective patients. A crisp design aesthetic and "fixed" navigation round out the site's commitment to displaying informative content in a charming, user-friendly way.
This state-of-the-art new website for Trey Vereen, DMD is a good example of the ways in which your online presence can beautifully showcase your practice and its connection to the community. If you would like to find out how you can upgrade your website, or create a brand new site, talk to our consultants today. To view the final product for Dr. Vereen's practice, please head on over to drvereendental.com!