We pride ourselves on creating paid search strategies that generate quality leads.
Immediate Placement, Impactful Leads
Achieving page one placement in organic search results is something every medical and dental practice strives for, but this feat is far from the only way to generate leads and grow your patient base. Among several complementary marketing tactics, paid search advertising is an excellent supplement to organic SEO efforts, leading to significant ROI when approached strategically and monitored regularly.
With paid search advertising—also commonly referred to as pay-per-click or PPC—elective healthcare providers can target specific keywords and demographics to gain immediate, prominent positioning across a variety of marketing channels. Perhaps the greatest benefit of PPC marketing is that individuals who typically click on paid ads are those who have graduated from initial information gathering about a certain treatment to actively searching for a practitioner. During this latter stage of the buying cycle, a well-placed, targeted ad can be the difference between turning a qualified candidate into a valued patient, or losing him or her to a competitor.
At Rosemont Media, we tailor all paid search advertising campaigns to suit the exact needs of our clients, utilizing a calculated mixture of Google Ads, YouTube, social media ads, display ads, and more to drive visitors to your website as an adjunct to organic SEO traffic. We also believe in complete transparency, providing a breakdown of management expenses and ad costs that allows you to see exactly how your money is being spent. Ultimately, our commitment to quality and intimate understanding of the PPC landscape has earned us the title of a Google Partner—an esteemed designation awarded for meeting Google ad performance, spend, and certification requirements.
What's Included with RM Paid Search Advertising
We pride ourselves on creating custom paid search strategies that generate quality leads and yield a high ROI for plastic surgeons, dentists, bariatric surgeons, ophthalmologists, dermatologists, and various other healthcare professionals. Below are some of the many components that help set our PPC services apart.
---
Budget Consulting and Optimization

Based on your unique budget, our team will determine the most appropriate and effective channel(s) to buy ads on, helping to maximize return for the ad dollars invested.

Early Access to New Google Ads Product BETAs

Our Google Partnership allows us to try out new Google Ads products before they are rolled out for everyone, potentially giving you a leg up on competition.

Ad Planning and Creative

From the overall design of the ad to the specific wording of any text displayed, we create attractive messaging that resonates with the targeted audience.

Performance Analysis

Our performance tracking tools , including advanced call and from tracking enable you to see exactly how well your ads are doing, providing valuable insight into your ROI and whether or not any part of your strategy should be adjusted.

Specialization

Our team is trained and certified in Google Search, Google Mobile, and Google Video, allowing you to take full advantage of all ad options available.

24/7 Google Partner Support

If ever a situation arises that assistance is needed from Google, our Partner status affords us around-the-clock support directly from the search engine giant itself.

Expertise in Social Media Ads

Social media platforms like Instagram and Facebook make hyper-targeted advertising and retargeting possible, permitting our team to reach incredibly specific groups, including people who already have a relationship with your brand.

Consistently High Standards

In order to retain our Google Partner distinction, we are required to meet ongoing spend, performance & certification benchmarks, which ultimately reinforces our promise to give you our very best.
Higher Conversion Rates with Custom Landing Pages
A high-quality landing page can have a positive impact on your Google Ads campaign. The relevance of content on landing pages affects the overall Quality Score assigned to a particular campaign. Google is very clear in its instructions for how to properly use Google Ads: it wants businesses to have original, relevant, useful, and specific content available once the link for the ad is clicked.
Custom landing pages allow you to deliver that, providing viewers with the specific content they're looking for. By sending prospective patients to a page about a topic they've searched for, this tends to result in a better conversion rate. Whereas if you direct them to your homepage, which has a wider variety of services listed, they aren't getting as targeted of information. By creating a custom landing page, you're guiding visitors on how to take action for their procedure of interest. You're putting compelling and visually appealing content in front of them for a procedure they're already considering.
Through the highly relevant nature of a custom landing page, you can attract more informed patients, who are more likely to contact you for an appointment. Learn more about custom landing page creation from our website design specialists.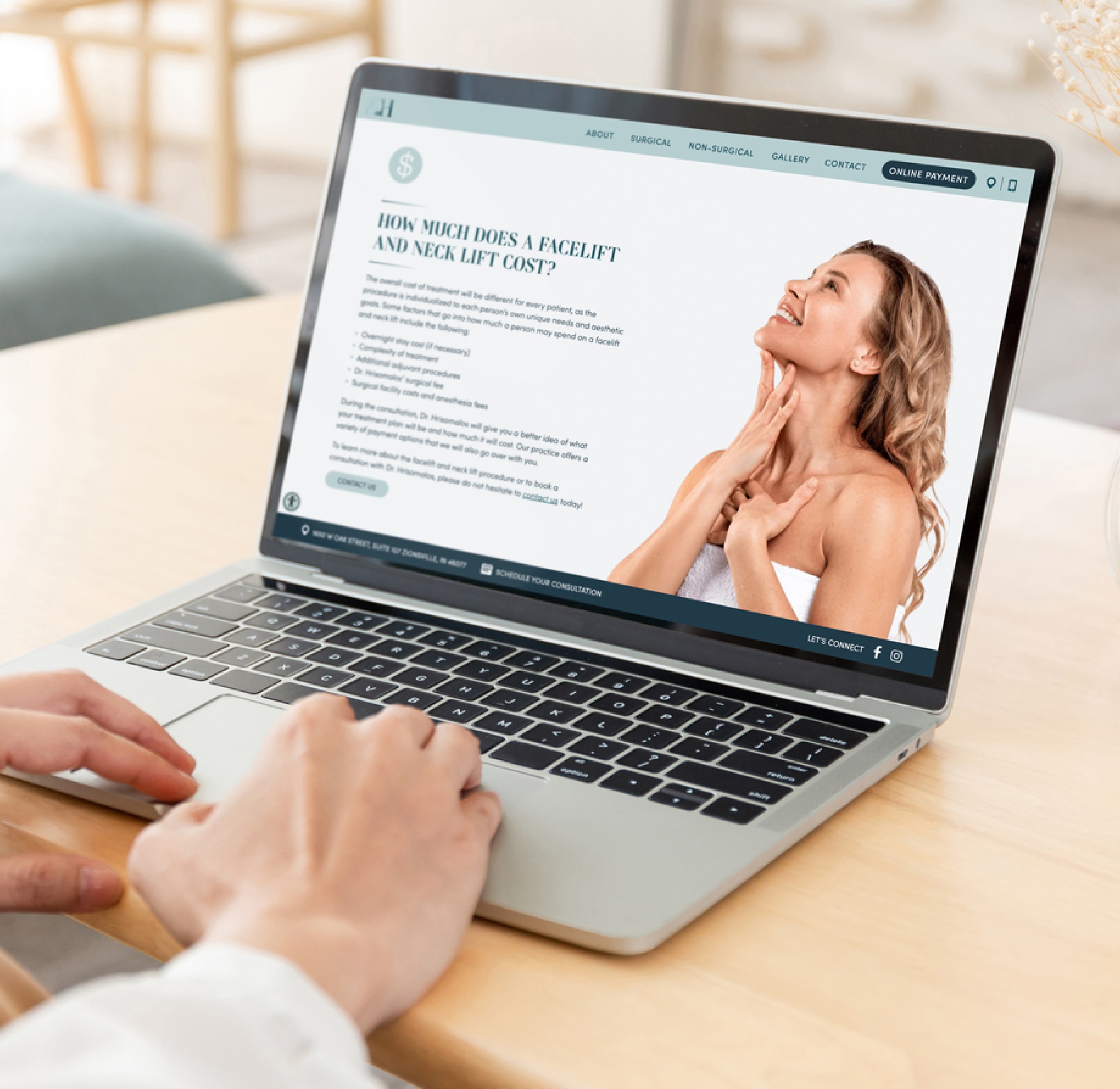 Let's Get Started!
For over a decade, Rosemont Media has assisted elective healthcare practitioners in reaching the top of their online marketplaces, and paid search advertising has always played an integral role. By tailoring a PPC campaign to strategically supplement your other online marketing endeavors, we can help expand your reach and bring more patients to your practice.