The Importance of Your Practice's Brand
While your website design, social media, and SEO efforts all contribute to a winning online marketing strategy, the foundation of this success is a well-developed brand. Rosemont Media is dedicated to creating highly customized healthcare branding that communicates who you are. We want your brand to represent the best parts of your practice, showing your personality, values, and mission. While this includes your logo and color palette, these are only part of the larger picture that is your brand identity.
The image and messaging communicated by your brand helps to differentiate your team from other practices. This requires telling a story through both visuals and writing that is consistent in all areas of your public image. After all, a brand's identity resonates throughout all aspects of business — online and offline. By creating a fitting image to represent your medical or dental practice, you can ensure a cohesive message that builds trust in your brand.
Logo Design & Brand Guide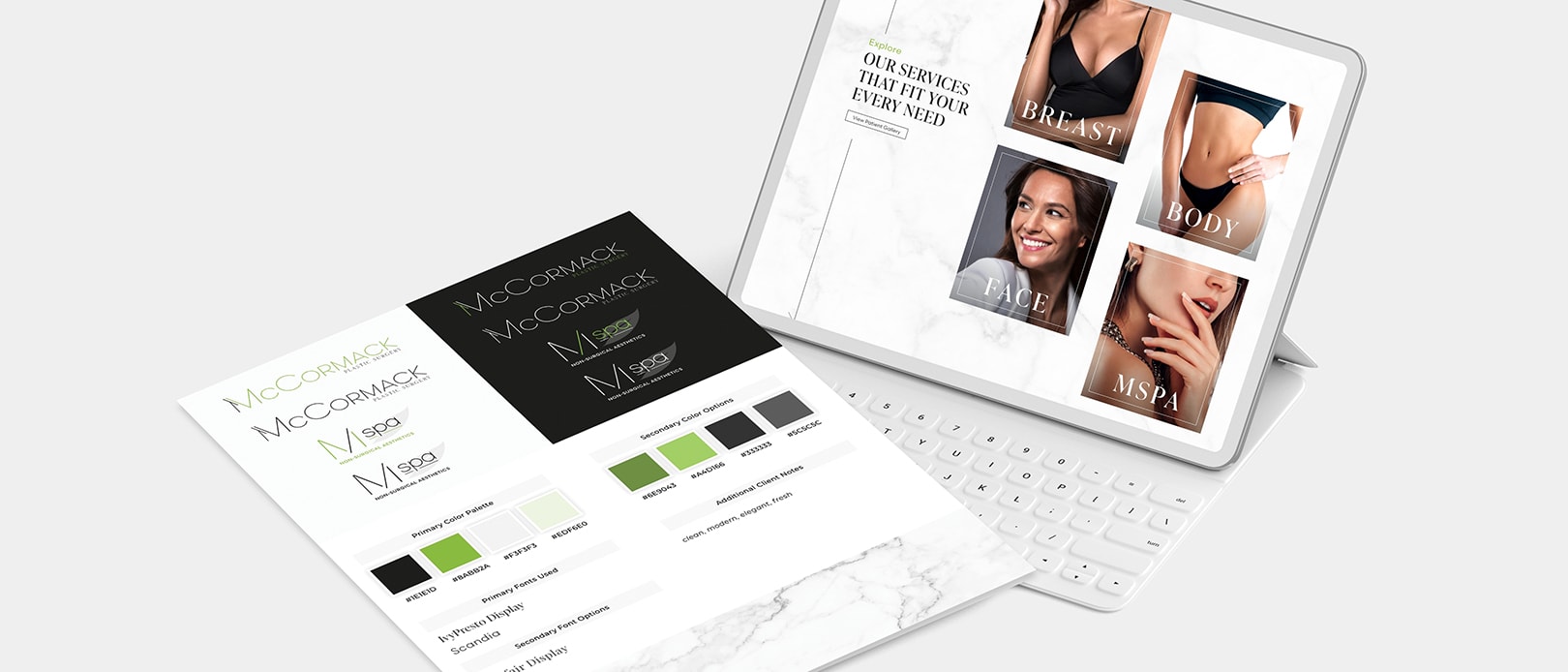 The Process of Building Your Brand
Clients come to our team at all stages of the brand creation process. Whether you already have well-established branding materials, or you're in the beginning stages of developing your brand from the ground up, Rosemont Media is known for creating effective brand strategies that capture the essence of each client's unique identity.
The first step is to define your brand concept. How do you want to be perceived? If you already like your brand identity but want to expand upon it, we can move to a later stage in the process. For clients still figuring out what they want their public image to look like, logo creation is often the next step.

Your logo is the cornerstone of your brand identity. It's a symbol representing your entire brand and, as a result, plays a very important role in achieving your practice goals. After establishing your brand concept, we can build your logo and other visuals from scratch, refine what you already have, or work with your existing logo to implement other creatives.

Building a trustworthy brand requires consistent messaging. We work with clients to generate their full brand guide, which acts as the blueprint for your practice website, online ads, social media pages, print materials, and more. It includes the fonts, colors, and general atmosphere surrounding your identity.

Once your foundational brand materials have been established, we can work with you to amplify your brand image, both online and offline. We'll implement your message through various avenues, identifying and targeting your ideal audience. From SEO and content marketing to PPC and print materials, we can help you achieve success through cohesive branding.
Plastic Surgery
Website Portfolio
Need Help Building or Refining
Your Brand?
In addition to website design and digital marketing, Rosemont Media is a branding agency with a proven track record of making clients stand out from the crowd. We can help to define your brand identity and communicate your practice mission through one-of-a-kind logo creation and the design of other collateral. If you're interested in building or refining your brand, or would like an experienced team to help your brand evolve, contact us to get started!