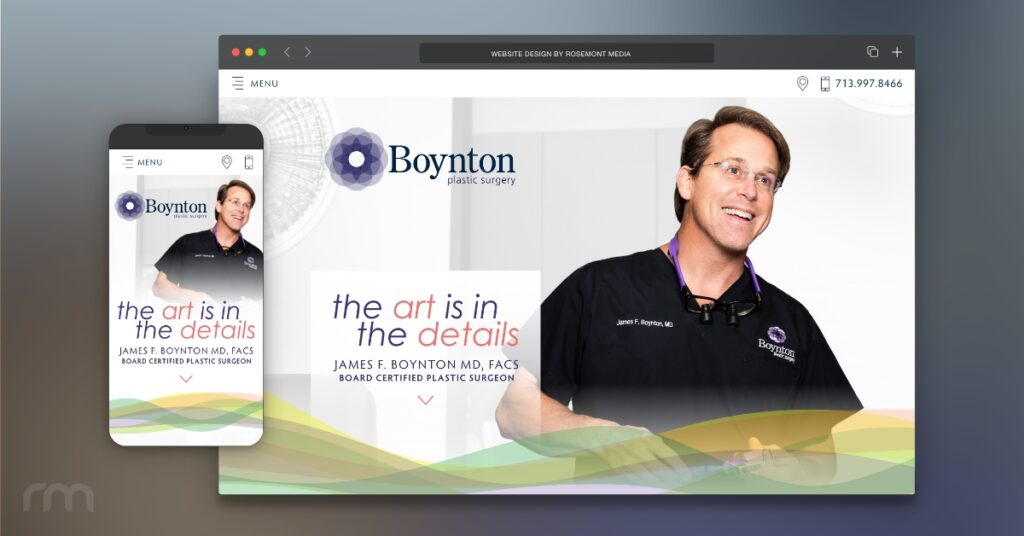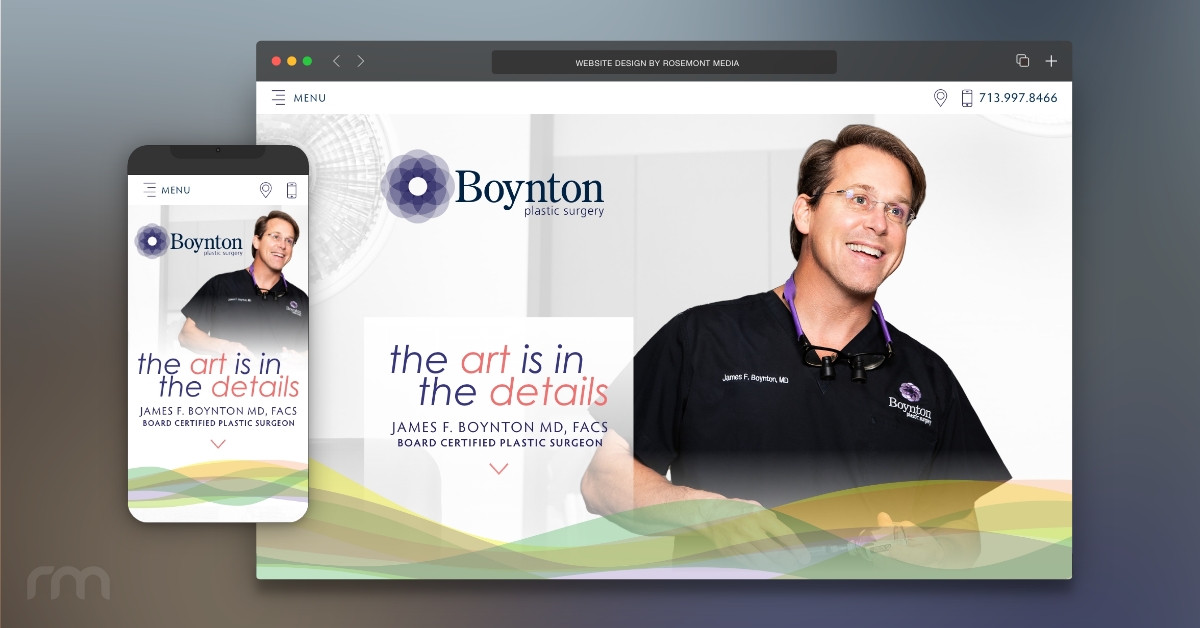 Project Details:
Launch Date:
November 2022
Page Count:
86
Services Overview:
Custom Responsive Design, SEO, Custom Content, CMS, Photo Gallery, and Blog
Compatibility:
Desktop, Tablet, Mobile
Visit Website:
Categories:
Board-certified Houston plastic surgeon James F. Boynton, MD recently modernized his practice's website with the intention of enhancing his visitors' browsing experience while staying abreast of the ever-evolving digital age. Outfitted with a responsive medical website design that seamlessly adjusts to fit the screen dimensions of virtually any Internet-compatible device, the website is composed of a staggering 86 pages featuring a variety of high-resolution images, an inviting color scheme, detailed descriptions of the many procedures available at the practice, graphic animations and videos, and much more.
Additionally, the website showcases numerous pages detailing Dr. Boynton's extensive credentials, experience, and honors he has achieved throughout his career. A before-and-after photo gallery, a patient reviews page, an updated blog, a page devoted to the practice's "Fly-In" plastic surgery program for out-of-town patients, custom medical SEO strategies, and many other state-of-the-art components are also featured on the website. Designed with aesthetics, patient education, and the user experience in mind, Dr. Boynton's new website offers a clear view of what technological innovations combined with creativity and solid expertise in medical website creation and development can achieve.
Dr. Boynton also collaborated with Rosemont Media on a microsite to go along with his upgraded main website. The microsite is a comprehensive one-page website exclusively dedicated to gynecomastia treatment, which has been a strong focus of Dr. Boynton's for many years.
Rosemont Media has been working with Dr. Boynton for a long time, and we are proud to continue our partnership with his practice by providing him with advanced new tools that can help him maintain and enhance his search engine rankings in the Houston area. If you are interested in custom website design for your plastic surgery practice, we encourage you to check out www.boyntonplasticsurgery.com and boyntongynecomastia.com to view the type of site Rosemont Media can build for you. As always, please feel free to reach out to our expert team of consultants for additional information.