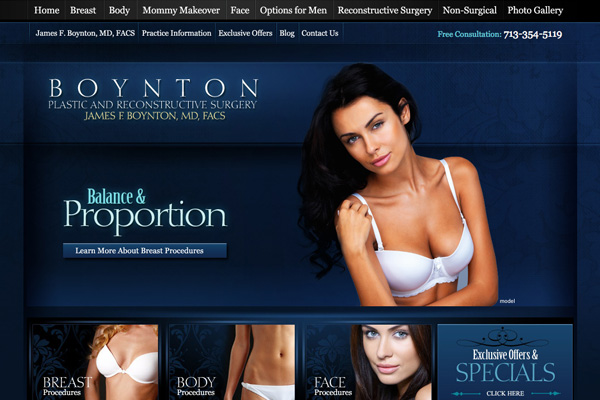 Project Details:
Launch Date:
August 2011
Page Count:
67
Services Overview:
New Custom Design, CMS, SEO, JavaScript Slide Show, Photo Upload Gallery and Blog
Compatibility:
Desktop
Visit Website:
Categories:
The website created for Dr. James Boynton, a plastic surgeon in Houston, utilizes the latest in design techniques to showcase his practice's unique vision and attention to aesthetic detail. Developed in collaboration with our team of writers and graphic designers, Dr. Boynton has given life and color to an extensive online database of procedure and practice information for his patients. Drop-down menus linking informative, easy-to-read text blend naturally with the color scheme and the stunning graphics to provide an online experience that is both easy to navigate and memorable. The website combines medical website design techniques with a custom layout and social media features to ensure the most effective online marketing strategies and the best results.
Our team of design and SEO experts meshed content and multimedia to optimize Dr. Boynton's practice with information on procedures ranging from liposuction to breast augmentation in Houston. Procedure videos also contribute to an educational and interactive experience for patients.
To learn more about the type of website Rosemont Media can create for you and your practice, visit www.boyntonplasticsurgery.com.