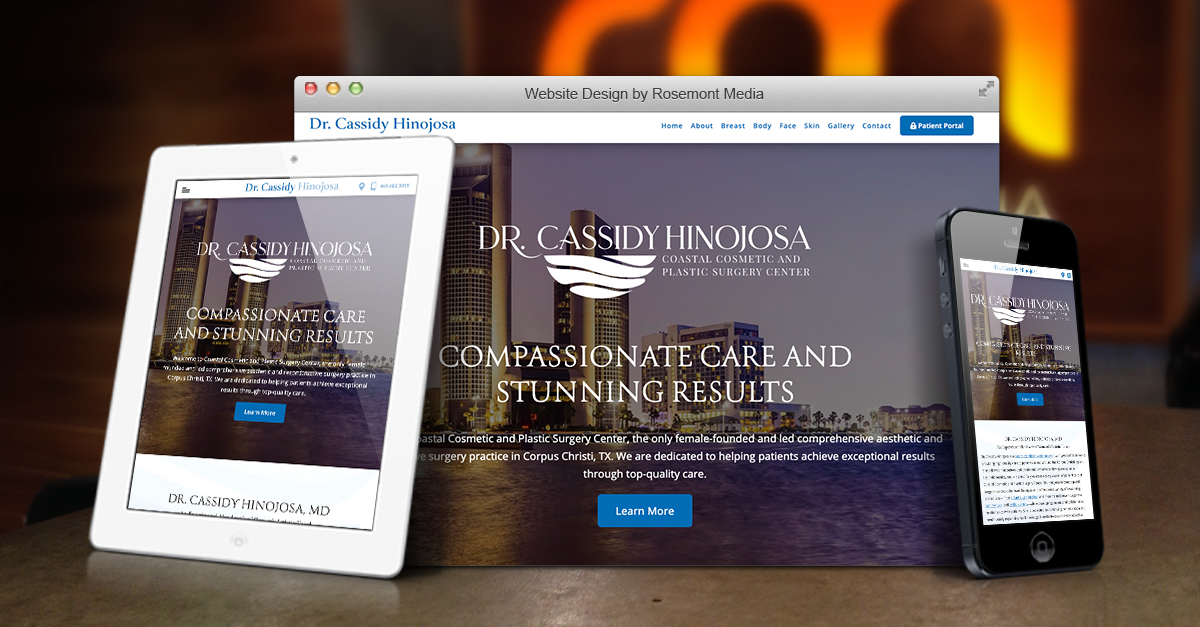 Project Details:
Launch Date:
April 2021
Page Count:
10
Services Overview:
Custom Responsive Design, SEO, Custom Content, CMS, and Photo Gallery
Compatibility:
Desktop, Tablet, Mobile
Visit Website:
www.hinojosaplasticsurgery.com
Categories:
Dr. Cassidy Hinojosa is a board-certified Corpus Christi plastic surgeon who provides a range of high-quality cosmetic and reconstructive services. After opening her own practice—Coastal Cosmetic and Plastic Surgery Center—Dr. Hinojosa partnered with the team at Rosemont Media to develop a responsive medical website. The finished product combines an array of informative custom content with imagery spotlighting the stunning coastal Texas vistas the practice was named after.
The homepage of Dr. Hinojosa's new website is modern, stylish, and welcoming, and the user-friendly layout invites visitors to explore all that the practice has to offer. Each page on the website has been outfitted with custom content that provides current and prospective patients with an educational resource about a wide variety of procedures—including breast augmentation, mommy makeover, and eyelid surgery. Responsive design elements ensure that the site automatically adjusts to fit any device or screen size, optimizing viewer experience without sacrificing content, organization, or aesthetics.
Additional website features include an expansive before-and-after photo gallery and an optimized SEO strategy that is designed to boost ranking performance and visibility on Google and other search engines.
We invite you to visit hinojosaplasticsurgery.com to explore the range of innovative design features that were included. If you are interested in refreshing the look of your current website or building an entirely new one, contact Rosemont Media today and learn more about how we can help boost your online presence.