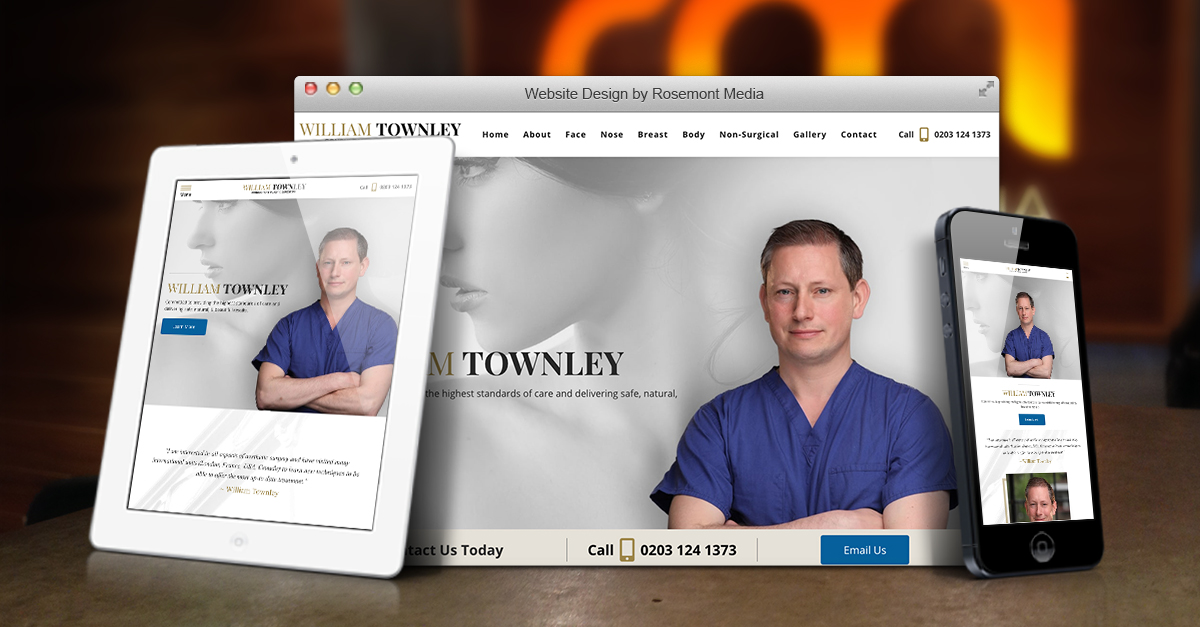 Project Details:
Launch Date:
April 2020
Page Count:
18
Services Overview:
Custom Responsive Design, SEO, Custom Content, CMS, Photo Gallery, and Blog
Compatibility:
Desktop, Tablet, Mobile
Visit Website:
Categories:
When it came time to revamp his online presence, London Consultant Plastic Surgeon Mr William Townley chose our experienced marketing team at Rosemont Media to create a website that could meet the dynamic needs of his practice. Along with creating a clean, modern design that reflects Mr Townley's professionalism and aesthetic expertise, the new website was developed using advanced coding strategies and custom search engine optimization (SEO) to deliver an optimal user experience and enhance performance on the search engines. In alignment with Mr Townley's commitment to thorough patient education, custom-designed pages were created to spotlight top procedures, such as rhinoplasty and facelift, and provide comprehensive information to visitors interested in learning about them. Before-and-after photos of patients showcase Mr Townley's exceptional skill, and our team developed a digital gallery that beautifully displays his work and provides detailed descriptions of the procedures and treatments he has performed in each case. Best of all, Mr Townley's website is simple to use, well organized, and easy to navigate whether visitors are browsing the site using a smartphone, tablet, laptop, or desktop computer. The mobile-friendly responsive design and navigation adjusts to fit the size screen and device being used for a seamless user experience. Mr Townley's future efforts are focused on continuing to build out specific procedure pages with an ambitious content marketing plan.
To experience Mr Townley's state-of-the-art plastic surgery website for yourself, please visit williamtownley.co.uk. For more information on how Rosemont Media can create the ideal website for your elective healthcare practice, contact our knowledgeable representatives.