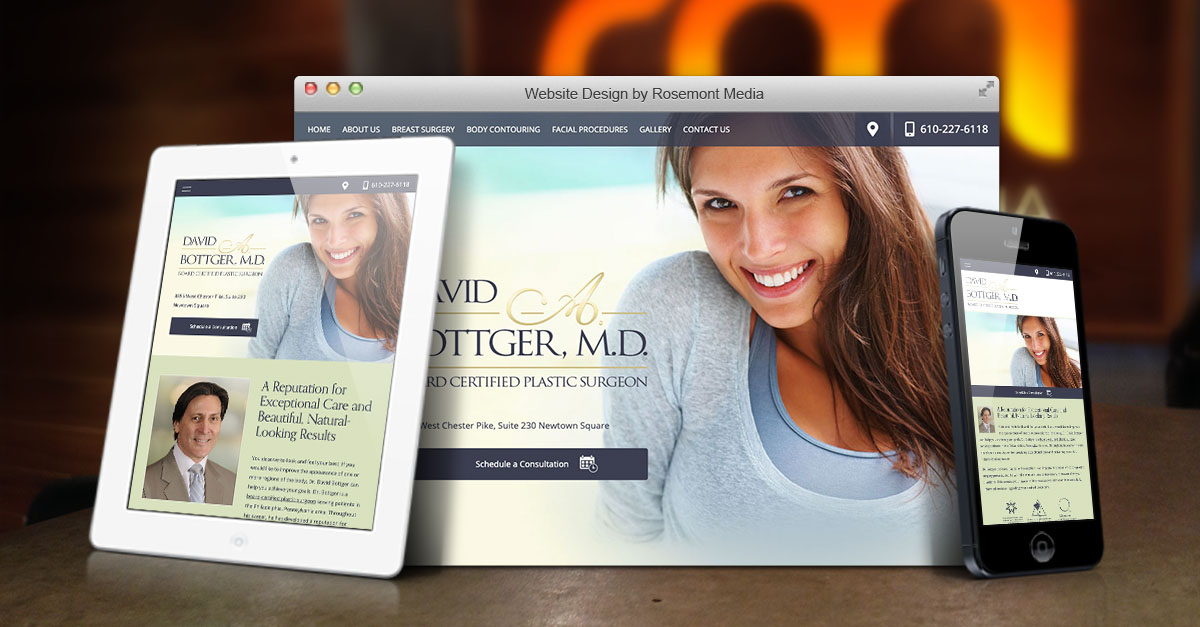 Project Details:
Launch Date:
April 2019
Page Count:
36
Services Overview:
Custom Responsive Design, SEO, Custom Content, CMS, Photo Upload Gallery, and Blog
Compatibility:
Desktop, Tablet, Mobile
Visit Website:
Categories:
Acclaimed Philadelphia plastic surgeon David Bottger, MD sought an upgrade to his online presence—a revamp that could take his practice to the next level while simultaneously serving as a resource to current and prospective patients considering cosmetic surgery. The creative strategists at Rosemont Media delivered on Dr. Bottger's wishes with an elite, fully responsive website design that serves as an online megaphone for his practice in addition to a comprehensive educational tool. The multi-functional plastic surgery site is primed with a number of user-friendly features, including a fully responsive layout, an extensive before-and-after photo gallery, custom-written content, and the latest best practices in medical search engine optimization.
The most frequently pursued aesthetic treatments—such as breast augmentation and abdominoplasty— stand out on custom-designed pages intended to highlight these procedures while disseminating a large volume of information in an understandable and engaging format. With these features displayed on a cool-toned, contemporary interface, patients in Philadelphia and beyond have no trouble finding detailed answers to their most burning questions. Symbiotically, the first-rate website design works to boost Dr. Bottger's digital presence with seamless content marketing that helps ensure it's positioned in front of the very users seeking treatment.
To see the results of our collaboration, please visit www.drbottger.com and be sure to contact Rosemont Media for all of your website design and healthcare marketing needs.