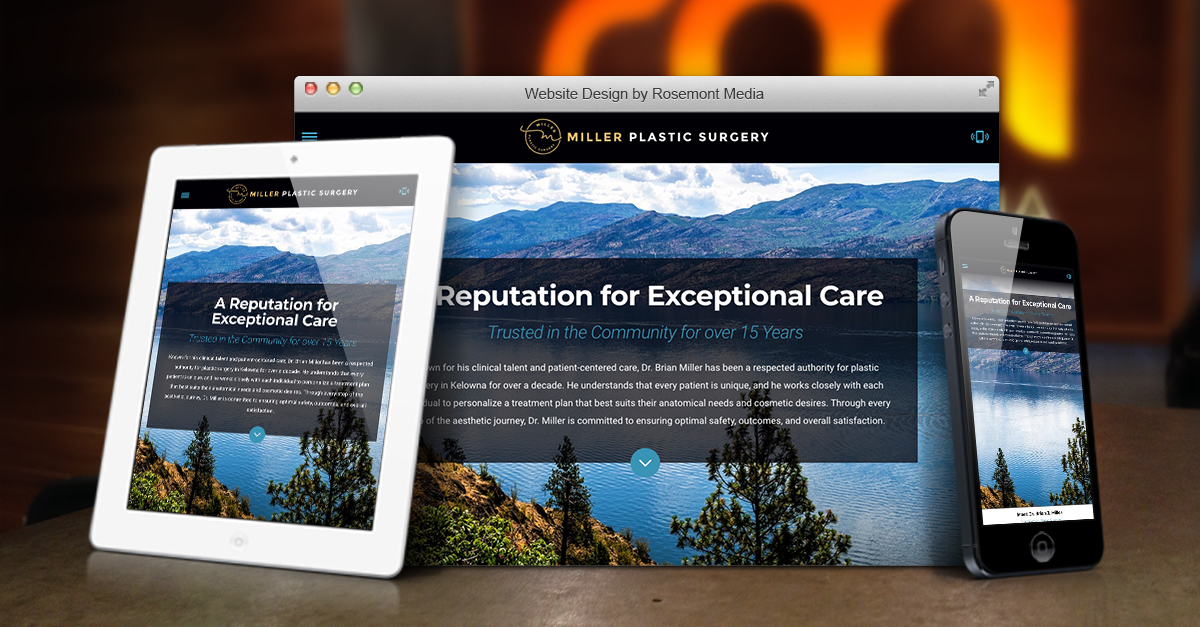 Project Details:
Launch Date:
March 2021
Page Count:
18
Services Overview:
Custom Responsive Design, SEO, Custom Content, CMS, Photo Gallery, and Blog
Compatibility:
Desktop, Tablet, Mobile
Visit Website:
Categories:
Miller Plastic Surgery is well-known for its variety of popular cosmetic procedures and services provided by Kelowna plastic surgeon, Brian Miller, MD. In need of a new user-friendly website, Dr. Miller collaborated with our highly-skilled team of experts at Rosemont Media to customize a responsive design that features beautiful scenery of the Okanagan Lake while being easily navigable for finding information about top-quality aesthetic treatments.
The new website's visually appealing design elements, strategically integrated graphics, and well-organized content on procedures give viewers an educational experience that is inviting and pleasing to the eye. Throughout the site's 18 pages, the best medical SEO strategies are utilized to improve the practice's online presence as part of their digital marketing goals. Viewers can straightforwardly find a detailed biography of Dr. Miller, a regularly updated blog page, a before-and-after photo gallery, and more on the site. Dr. Miller's website is fully customized to give him and his practice a competitive edge within the plastic surgery industry.
You can view this exceptionally curated website at drbrianjmiller.com to see the innovative elements that were built into it. If you are interested in revamping your current website, or producing a new website that promotes your distinguished practice, please contact Rosemont Media today!