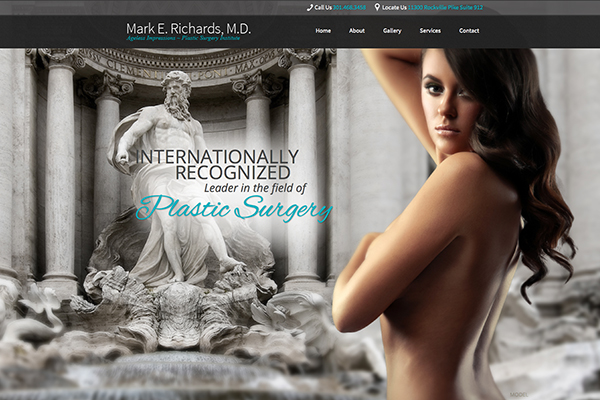 Project Details:
Launch Date:
August 2013
Page Count:
45
Services Overview:
Custom Responsive Design, JavaScript Slide Show, SEO, CMS, Custom Content, Photo Upload Gallery, and Blog
Compatibility:
Desktop, Tablet, Mobile
Visit Website:
Categories:
For a refreshed new user-friendly website design, Dr. Mark E. Richards collaborated with Rosemont Media's team of programmers, designers, and writers. The new site uses a responsive design, so users can view the website in its entirety, no matter what size screen they are viewing it on. The new site detects screen dimensions automatically, and intelligently reorganizes the information on the page. This ensures that none of the important features from the full site are lost when viewed on a smartphone, tablet, or other mobile device. The smart design makes it easy for prospective and current patients to gather valuable information about surgical and non-surgical procedures, such as facelift, breast augmentation, tummy tuck, breast lift, BOTOX® Cosmetic, and more.
Dr. Richards' new website also offers easy access to the practice's Facebook, Twitter, and YouTube social media sites, helping plastic surgery patients in the Washington, D.C. area to stay connected and stay informed about Dr. Richards and his practice.
With the help of our team, Dr. Richards was able to achieve a customized medical website design that can help boost patient education. The attractive design features elegant images and an innovative design element called fixed background positioning. Creative SEO enhancements throughout the site were implemented to give Dr. Richards a competitive edge, as well.
To see an example of how customized responsive website design from Rosemont Media can help your practice, please visit www.drmarkrichards.com.