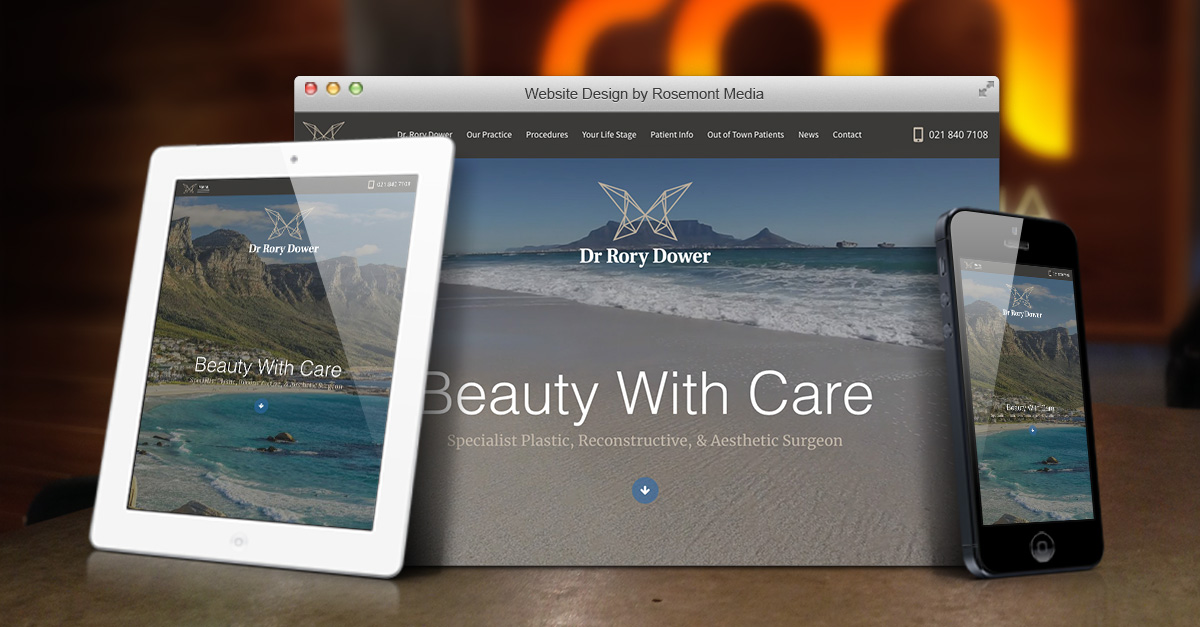 Project Details:
Launch Date:
January 2018
Page Count:
50
Services Overview:
Custom Responsive Design, Custom Content, CMS, and Blog
Compatibility:
Desktop, Tablet, Mobile
Visit Website:
Categories:
When Dr Rory Dower—internationally-trained plastic surgeon—sought a sleek and modern, yet informative, plastic surgery website to reflect the heart of his practice in Cape Town, South Africa, he teamed up with Rosemont Media to create a cutting-edge web presence that also functions as a comprehensive educational tool. With individuals traveling on a local, national, and international level to see him, Dr Dower wanted an easy-to-navigate and reliable platform where he could disseminate valuable procedural information to keep his patients well-informed. This vision was brought to life with a custom-built, fully responsive website design whose state-of-the-art interface is accessible on any device.
With video integration woven into the homepage, visitors are welcomed to the site in a manner that is visually enticing without seeming busy or overwhelming. The soft color palette, along with the muted video content displaying the natural beauty of Cape Town, is designed to mirror the relaxing setting from which Dr Dower performs his range of aesthetic and reconstructive services. In this way, users gain an initial introduction into Dr Dower's luxurious Therapy Medi-Spa and advanced surgical practice without leaving their houses. Patients can find all of the relevant material they need with ease on custom-written procedure pages, as well as an up-to-date blog dedicated to discussing the latest practice news and innovations in surgical and non-surgical enhancement. Furthermore, simple and elegant navigation ensures a smooth, effortless, and enlightening user experience throughout.
Take a look at www.plasticsurgerycentre.co.za to see Dr Dower's practice come to life on the web. When you are ready to upgrade your web presence, be sure to contact Rosemont Media for all of your digital design and marketing needs.