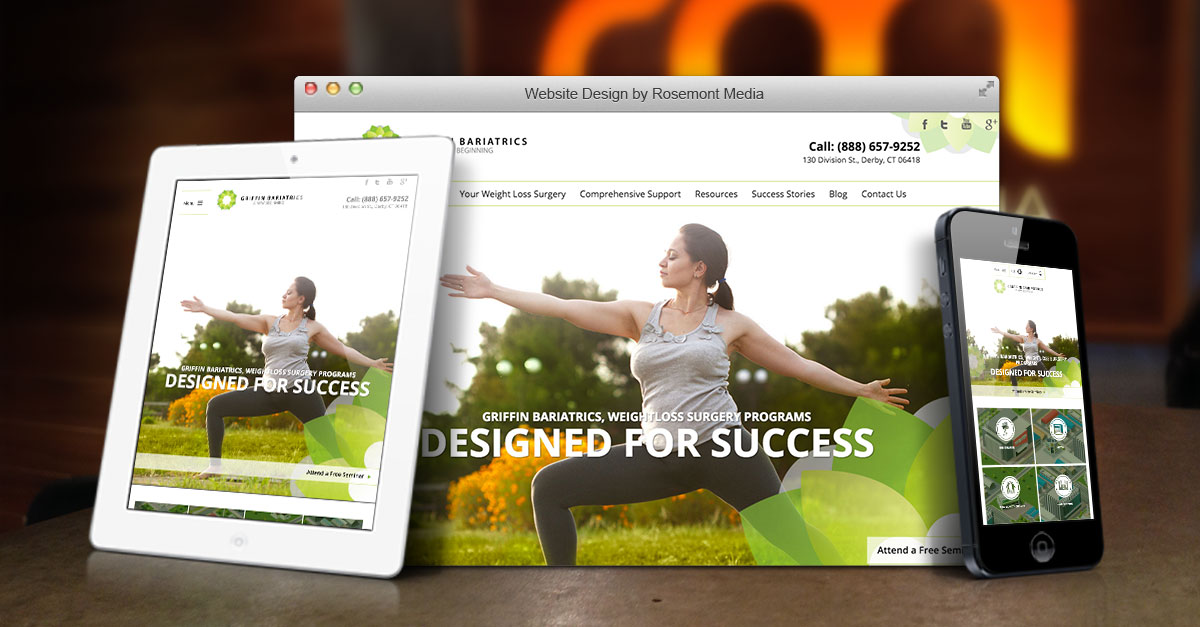 Project Details:
Launch Date:
December 2015
Page Count:
34
Services Overview:
Custom Responsive Design, SEO, CMS, Custom Content, Photo Upload Gallery, and Blog
Compatibility:
Desktop, Tablet, Mobile
Visit Website:
www.griffinhospitalbariatrics.com
Categories:
At Griffin Bariatrics, helping patients achieve healthier, happier lives through weight loss is a primary objective. To complement its selection of advanced bariatric surgery and support techniques, the practice recently reached out to Rosemont Media to upgrade its website. The innovative design highlights a plethora of state-of-the-art features and thoughtful details that make the site an appealing online destination for current and prospective patients.
Convenience is essential for Griffin Bariatrics, so the new responsive website makes browsing simple, intuitive, and fun from virtually any Internet-compatible device. To further enhance the visitor experience, the homepage includes an interactive "map" of the Griffin online community. Users can click on the Café for nutrition inspiration, the Stadium for exercise information, or the Theater to view optimized video of patient testimonials. Each of the seven highlighted buildings serves as a helpful resource for weight loss patients before, during, and after bariatric surgery.
Rosemont Media's adept team also incorporated the latest medical SEO strategies into the website, boosting the practice's visibility in its online marketplace. With this combination of state-of-the-art features, appealing aesthetics, and user-friendly layout, Griffin hopes to provide an experience that's as inviting, supportive, and personal as a face-to-face interaction.
Rosemont Media understands that every practice has unique marketing needs and goals. To see an example of one of our customized responsive websites, please visit griffinhospitalbariatrics.com or other websites in our extensive portfolio.