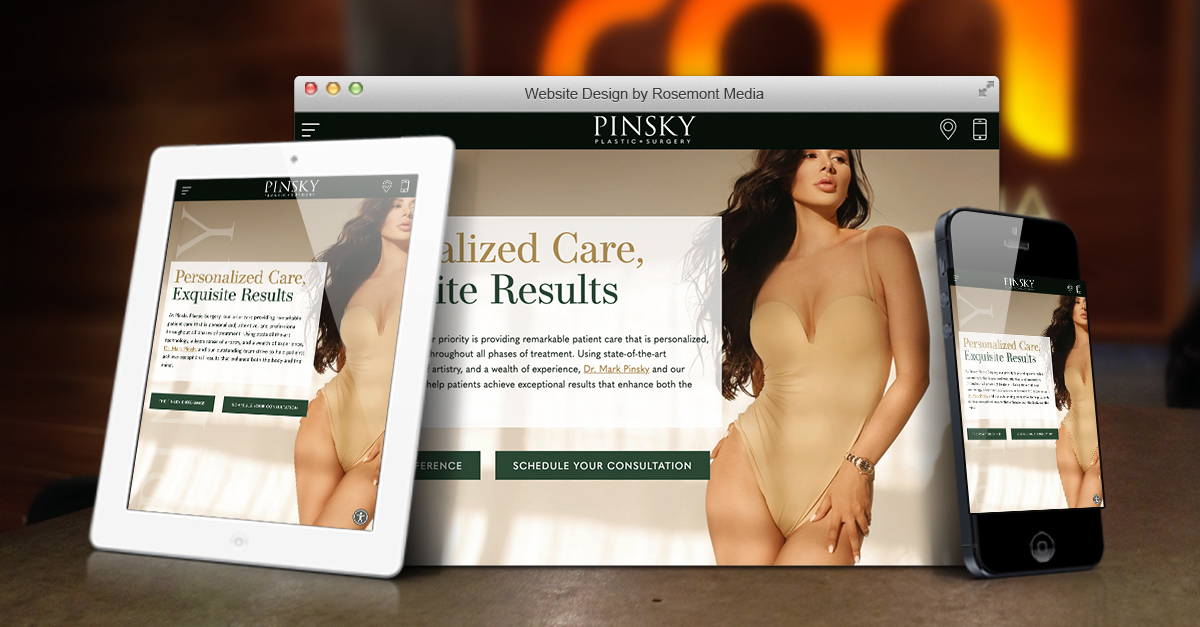 Project Details:
Launch Date:
May 2022
Page Count:
89
Services Overview:
Custom Responsive Design, SEO, Custom Content, CMS, Photo Gallery, and Blog
Compatibility:
Desktop, Tablet, Mobile
Visit Website:
Categories:
Renowned plastic surgeon Mark Pinsky, MD and his business partner, Vincent Chavanon, MD, have teamed up with Rosemont Media to create a new responsive website design for their Palm Beach Gardens practice. As always, our team aimed to create a user-friendly design that patients can conveniently navigate across multiple platforms. In keeping with the ever-expanding technological world, the site was developed to adapt to screens of all types, allowing patients to explore the updated Pinsky Plastic Surgery site from their desktop, laptop, tablet, or smartphone.
Dr. Pinsky, who has more than 30 years' experience performing body, breast, and facial enhancement surgeries, wanted the redesign to reflect his commitment to delivering unparalleled patient satisfaction. Together with Dr. Chavanon, the surgeons consistently provide surgical results that exceed expectations. Matching the elegant appearance of the practice itself, the site's layout is minimalistic and aesthetically pleasing. Its meticulously organized pages contain information about the various procedures Dr. Pinsky's team offers, which include, but are not limited to breast augmentation, tummy tuck surgery, and a comprehensive array of non-surgical treatments. In addition, our team has equipped the site with avant-garde medical SEO for optimal marketplace visibility.
For an example of a custom-tailored plastic surgery website designed by Rosemont Media's experienced team, please visit pinskymd.com.