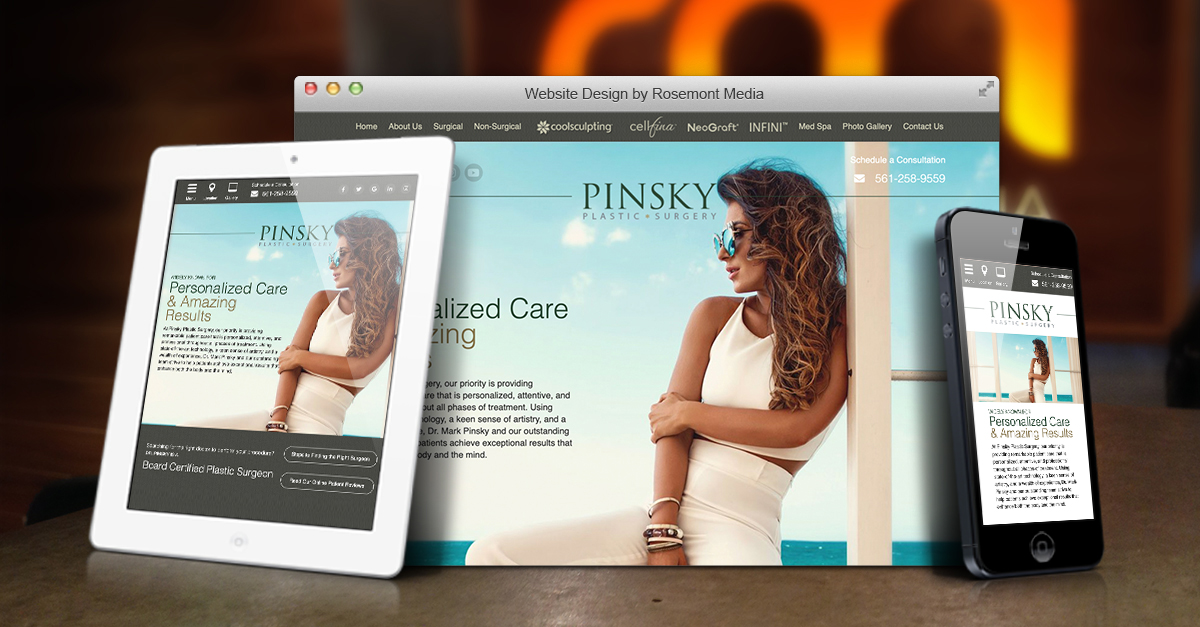 Project Details:
Launch Date:
October 2014
Page Count:
64
Services Overview:
Custom Responsive Design, JavaScript Slide Show, SEO, CMS, Custom Content, Photo Upload Gallery, and Blog
Compatibility:
Desktop, Tablet, Phone
Visit Website:
Categories:
Seeking to create an enhanced online experience for his Palm Beach plastic surgery practice, Dr. Mark Pinsky enlisted the help of Rosemont Media for the development of his new responsive website design. The team of writers, developers, and designers helped to fashion the Pinsky Plastic Surgery site into an innovative, aesthetically pleasing online destination replete with an easily navigable interface and an adaptable format. As a result, the new layout is better suited to the modern needs of patients searching for information on the go.
Chief among the website's expanded features is the new responsive design, which allows individuals using Internet-compatible smartphones, tablets, laptops, and desktop computers to access the site without having to pan or zoom to view the content. In an age of perpetual access, having a site that automatically adjusts to fit the screen of mobile devices is essential and helps to ensure a smoother, more user-friendly browsing experience.
In addition to a state-of-the-art design, Dr. Pinsky sought to provide current and prospective patients with a detailed resource on an array of popular surgical and non-surgical procedures for the face, body, and breasts, including male plastic surgery, breast augmentation, and face lift. Furthermore, the site is outfitted with the latest medical SEO strategies, which helps to increase the practice's visibility in its online marketplace.
With the new design, Pinsky Plastic Surgery hopes to create well-informed patients by providing a convenient, appealing way for users to find the information they are seeking.
To view an example of an innovative and customized plastic surgery website designed by Rosemont Media, please visit pinskymd.com.