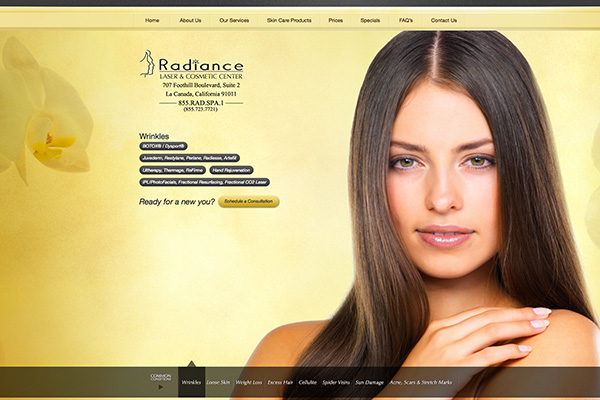 Project Details:
Launch Date:
February 2012
Page Count:
45
Services Overview:
Custom Responsive Design, JavaScript Slide Show, SEO, CMS, and Blog
Compatibility:
Desktop
Visit Website:
Categories:
Dr. Max Lehfeldt, a La Canada plastic surgeon, recently teamed up with Rosemont Media to create an innovative, state-of-the-art website for his plastic surgery practice. The search engine optimized website contains a variety of dynamic features, highlighted by detailed biographies about the team, drop-down navigational tabs, a frequently asked questions page, a specials page, and more.
The new site is built with a user-friendly interface to allow both current and prospective patients to enjoy a welcoming online experience and easily access a wide array of procedural information. The procedural pages encompass all of the procedures Dr. Lehfeldt offers, including BOTOX® Cosmetic, laser hair removal, chemical peels, and fractional skin resurfacing. Along with detailed descriptions of each procedure, the pages also include information about treatment time, possible side effects, medications to avoid prior to treatment and how long results last.
Dr. Lehfeldt's website is designed to maintain strong doctor-patient relationships. By including a link to the practice's Facebook profile, patients can easily connect with others in the community and stay updated on the latest news about the practice.
The medical website design team at Rosemont Media teamed up with Dr. Lehfeldt to create a successful SEO website using the most advanced search engine marketing strategies. The site successfully displays Dr. Lehfeldt's commitment to patient care and serves as a valuable resource for patients to get an inside look at what the practice offers.
For more information on the customized website design Rosemont Media can create for your medical practice, visit www.radiancemedicalspa.com