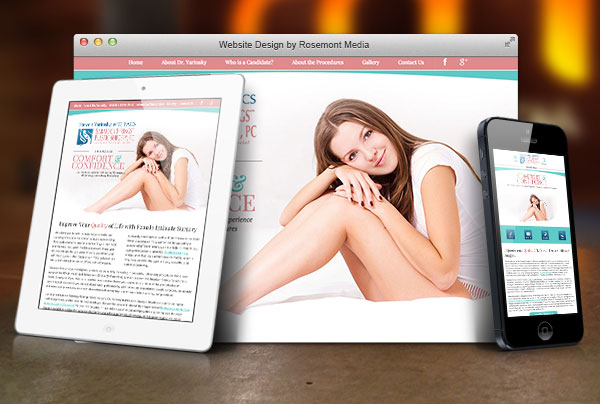 Project Details:
Launch Date:
August 2015
Page Count:
9
Services Overview:
Custom Responsive Design, SEO, CMS, Custom Content, Photo Upload Gallery, and Blog
Compatibility:
Desktop, Tablet, Mobile
Visit Website:
Categories:
In collaboration with our team at Rosemont Media, plastic surgeon Steven Yarinsky, MD, FACS recently launched a new specialty website that focuses on female intimate surgery. Dr. Yarinsky, who is the Medical Director of Saratoga Springs Plastic Surgery, PC, has been performing labiaplasty procedures for over 20 years and chose to create a website dedicated to the surgery to position himself as the expert in the Saratoga Springs region.
The website was custom-made according to Dr. Yarinsky's vision and includes a variety of advanced design elements to help portray his level of professionalism and expertise. Throughout the online resource, visitors can find procedural information as well as details regarding Dr. Yarinsky's skill and experience. With female intimate surgery being such a sensitive matter, the website emphasizes Dr. Yarinsky's commitment to patient comfort and privacy. This includes a unique contact area called, "Ask Danielle," where individuals can confidentially ask a woman at the practice their intimate questions.
In addition to being both supportive and informative, the labiaplasty website was developed with a responsive design for a more convenient viewing experience. This means despite the Internet device being used to access the website–whether a tablet, smartphone, or personal computer–the dimensions of the layout will automatically adjust to the appropriate size, helping visitors find the information for which they are looking with greater ease.
To further enhance the website's user-friendly design, each page has been equipped with the latest plastic surgery SEO strategies. This allows individuals searching for labiaplasty information in search engines to more easily navigate to Dr. Yarinsky's website.
For an example of the type of custom website design Rosemont Media can create for your plastic surgery practice, feel free to visit www.saratogalabiaplasty.com.