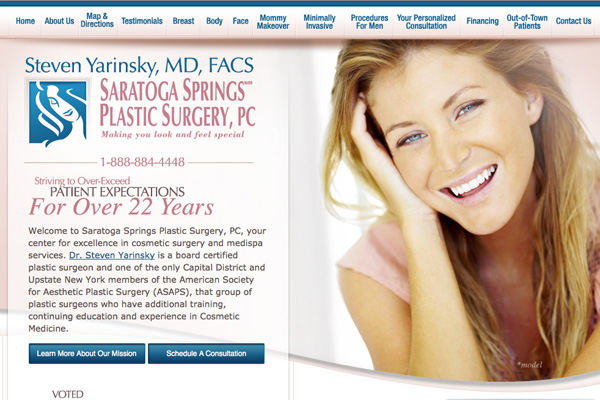 Project Details:
Launch Date:
June 2011
Page Count:
64
Services Overview:
New Custom Design, CMS, SEO, Photo Upload Gallery and Blog
Compatibility:
Desktop
Visit Website:
Categories:
The new website for Saratoga Springs Plastic Surgery, PC combines an aesthetically pleasing layout with functional menus for a comprehensive and customized patient experience. Drop-down menus and visually stunning tabs create a unique online experience focused on delivering personalized and accurate information while conveying the mission of Dr. Seven Yarinsky's practice in a beautiful and easy-to-use structure. The website integrates functionality with stylistic and artful form to capture Dr. Yarinsky's specialized and caring vision.
In collaboration with Rosemont Media, the Saratoga Springs Plastic Surgery practice crafted a custom website structure that suits their needs in an interactive and beautifully designed layout. The attractive tabs and easy-to-read structure offer detailed descriptions of procedures, a doctor biography and a before-and-after gallery. The website also utilizes social media buttons and videos to engage patients.
For a more in-depth picture of Rosemont Media's plastic surgery website design and marketing and what they can create for your practice, visit www.yarinsky.com.