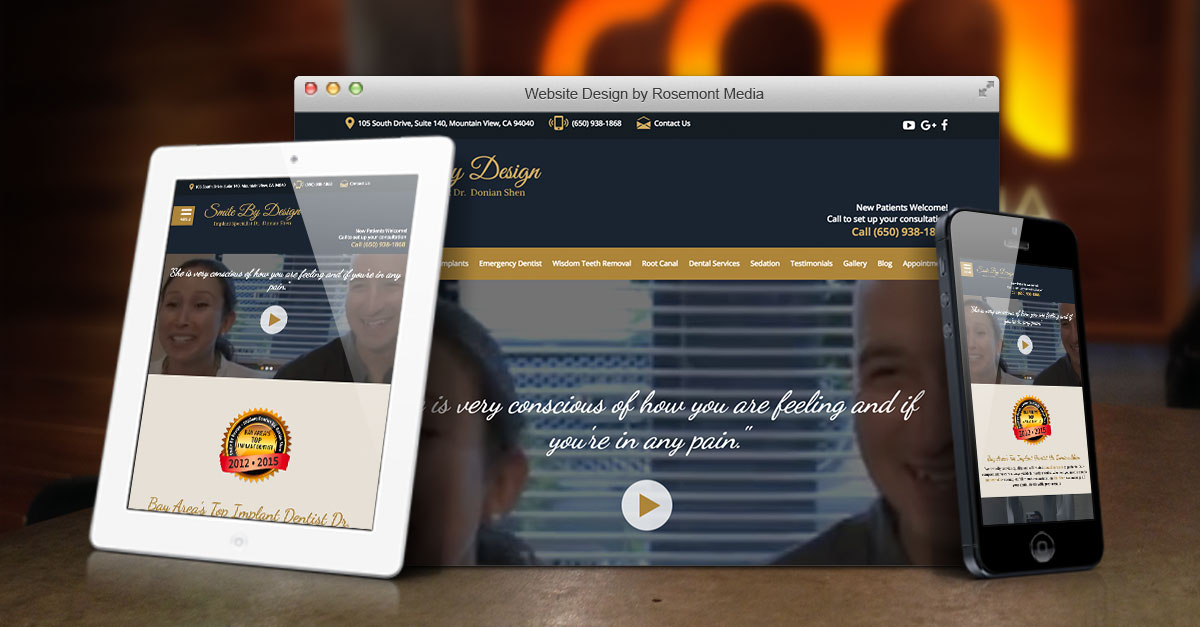 Project Details:
Launch Date:
Novemeber 2016
Page Count:
33
Services Overview:
Custom Design, SEO, CMS, Custom Content, Photo Upload Gallery and Blog
Compatibility:
Desktop, Tablet, Phone
Visit Website:
Categories:
A little change can go a long way, and the proof is in Mountain View dentist Dr. Donian Shen's updated practice website. The founder of Smile By Design, a full-service dental office, sought to redesign her site for a more modern and user-friendly look. Rosemont Media started by upgrading to a responsive website format, enhancing accessibility for visitors on smartphones, tablets, and other mobile devices. We then improved the layout, from homepage to contact page, ensuring users enjoy a smooth, intuitive experience. Just as important, we expanded the dental content to provide a helpful resource to new and existing patients. Reorganization was the primary goal, and the site retains its established color scheme and style while presenting innovative features like full-width video headers, enlarged boxes and buttons, and more prominent patient reviews and photos. The result is a contemporary blend of traditional design and advanced techniques that establishes Smile By Design as a forward-thinking authority in dentistry. To see how Rosemont Media can tailor a website design to suit the individual needs and goals of a dental practice, we encourage you to explore www.shendds.com.