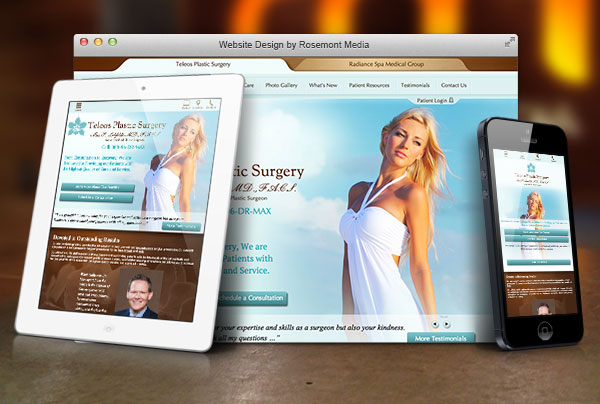 Project Details:
Launch Date:
November 2014
Page Count:
67
Services Overview:
Custom Responsive Design, SEO, CMS, Photo Upload Gallery, and Blog
Compatibility:
Desktop, Tablet, Mobile
Visit Website:
Categories:
Pursuing new opportunities to provide a helpful medical resource to prospective and current patients, Pasadena area plastic surgeon Max Lehfeldt, MD recently collaborated with Rosemont Media to develop an innovative responsive website design for his practice, Teleos Plastic Surgery. Created to maximize accessibility, the new site features an attractive, easily navigable interface and mobile-friendly layout. As a result, visitors can now find the information they are seeking from any Internet-capable device.
As more patients utilize mobile devices to research cosmetic procedures, having a responsive website that can automatically adjust to fit the screen of any smart phone, tablet, laptop, and desktop computer becomes increasingly essential. In addition to providing a smoother, more enjoyable browsing experience, the new website also offers detailed information on a comprehensive selection of facial and body-contouring treatments, including breast augmentation, breast reconstruction, facelift, and liposuction, as well as non-surgical aesthetic enhancements, such as BOTOX® Cosmetic and Laser Skin Resurfacing.
The state-of-the-art website is further equipped with the latest in medical SEO strategies. This feature enhances the practice's online visibility and allows individuals using leading search engines to locate staff bios, before-and-after-photos, practice information, and medical content more easily. As an advocate of patient education, Dr. Lehfeldt is proud to offer this convenient resource for users on the go.
To view an example of a customized plastic surgery website designed by Rosemont Media, please visit teleosplasticsurgery.com.