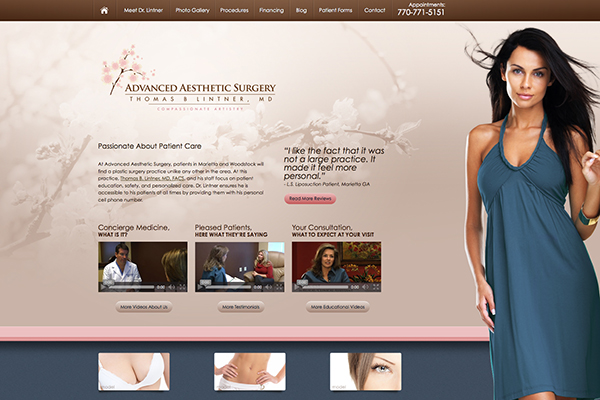 Project Details:
Launch Date:
June 2013
Page Count:
65
Services Overview:
Custom Responsive Design, JavaScript Slide Show, SEO, CMS, Custom Content, Photo Upload Gallery, and Blog
Compatibility:
Desktop, Tablet, Mobile
Visit Website:
Categories:
With the help of Rosemont Media's talented design, development, and writing team, Dr. Thomas Lintner was able to improve his practice's website by implementing a new responsive medical website design. The design helps him to provide appropriate and necessary information to his current and prospective patients in a logical and attractive way that offers ease of usability. With the responsive design, Dr. Lintner's informational website automatically adjusts to any screen size, without sacrificing organization, user-friendliness, or breadth of content. Using a smartphone, tablet or computer, patients are able to quickly and easily access detailed information about a wide variety of procedures, including breast augmentation, post-weight loss surgery, eyelid surgery, and more. The site also features patient forms, before and after photos, patient reviews, and non-surgical procedure information.
For additional patient education, the site's News Room highlights widely distributed press releases containing useful information and advice from Dr. Lintner and his practice regarding cosmetic procedures, new technology, upcoming promotions, and a range of other topics.
Equipped with SEO enhancements, Dr. Lintner's website can give him a competitive edge, improving his search engine rankings and boosting his visibility. His Atlanta area plastic surgery patients are also able to easily connect to the practice's Facebook page and YouTube channel directly from the website.
To get a better idea of what a customized responsive website design from Rosemont Media looks like, please visit www.tomlintnermd.com.