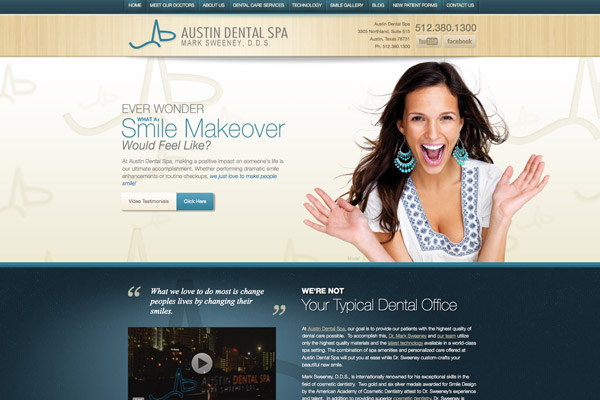 Project Details:
Launch Date:
May 2013
Page Count:
30
Services Overview:
Custom Design, JavaScript Slide Show, Custom Content, SEO, CMS, Photo Upload Gallery and Blog
Compatibility:
Desktop, Tablet, Mobile
Visit Website:
http://www.austindentalspa.com/
Categories:
Dr. Mark Sweeney is well-known for his artistry in smile makeovers as a noted cosmetic dentist in Austin. His creative touch is reflected in his newly designed responsive dental website, which is beautifully crafted and streamlined for ease of use. In order to create the new website, he partnered with Rosemont Media. With the help of our talented team of writers, developers, and designers, we provided him with a user-friendly new layout that will improve his relationship with his patients, as well as provide them with a wealth of information. The new website features an abundance of educational videos, helping patients to clearly understand procedures and technology offered at the Austin cosmetic dentistry practice. The responsive layout of the website allows for easy navigation on screens of any size – tablet, smartphone, or desktop.
The website is complemented by content that is detailed and enhanced with dental SEO, helping Dr. Sweeney to reach out to potential patients searching for teeth whitening, porcelain veneers, or other commonly searched terms. This unique marketing strategy allows Austin Dental Spa to stand out in a competitive market.
If you want to learn more about how Rosemont Media can help your practice with a customized responsive website design, please visit austindentalspa.com.