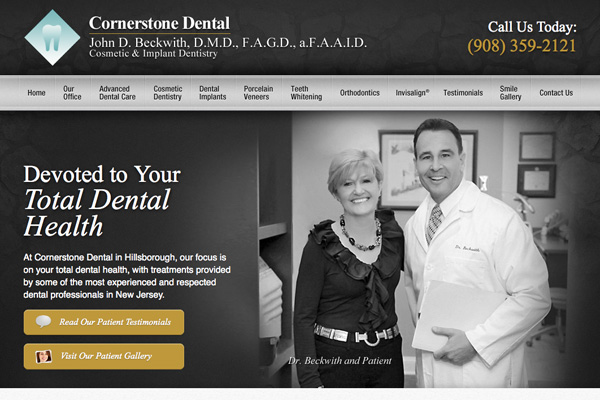 Project Details:
Launch Date:
May 2012
Page Count:
25
Services Overview:
Custom Design, JavaScript Slide Show, Custom Content, SEO, CMS, Photo Upload Gallery and Blog
Compatibility:
Desktop
Visit Website:
Categories:
At his New Jersey cosmetic dentistry practice, Dr. John Beckwith has dedicated his entire career to providing the highest quality, most effective care possible to his patients. As the digital age continues to make dental information more accessible through the Internet, Dr. Beckwith sought to create a website that would employ those same principles of professionalism and excellence to his online strategy. Through Rosemont Media's extensive experience in website design and search engine marketing, our team was able to create a beautiful, seamless product with the most reliable and educational information available to help patients make the best decision for their dentistry needs. Combining an easy-to-navigate interface with a sleek design, Dr. Beckwith's site serves as a valuable resource for the latest and most effective dental procedures, from porcelain veneers to Invisalign in New Jersey. An expansive digital photo gallery and interactive social media buttons provide patients with a uniquely engaging experience that will undoubtedly bring them back to the site time and time again.
Fully equipped with the latest tools in search engine optimization and dental website design, Dr. Beckwith's website has the caliber of distinction needed to succeed in a competitive market. Thanks to the creative efforts of our designers, developers, and writers, the new site will be able showcase his practice's longstanding commitment to the highest quality care.
To get a better look at the type of website Rosemont Media can create for you and your practice, visit cornerstonedentalnj.com.