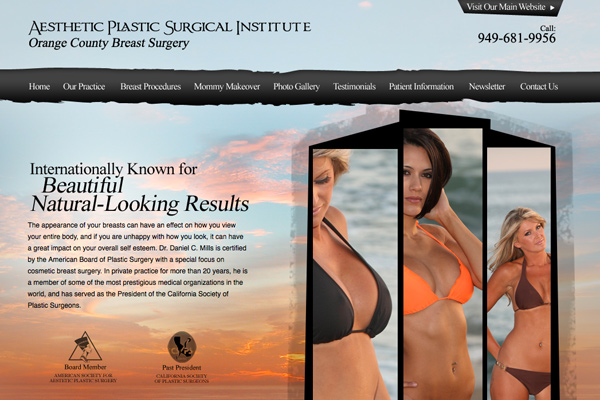 Project Details:
Launch Date:
January 2012
Page Count:
22
Services Overview:
Custom Design, SEO, CMS, Photo Upload Gallery
Compatibility:
Desktop
Visit Website:
Categories:
For his new website, Orange County plastic surgeon Dr. Daniel Mills sought to focus on the intricacies and artistic nature of breast surgery by dedicating an expansive layout to procedure information and stunning graphics that display his commitment to the highest caliber results. As a sister of his main website, the breast surgery site offers patients a look into the benefits, patient expectations, recovery, and available options that Dr. Mills provides at his practice. By combining in-depth educational content with beautiful images from his portfolio and seamless functionality, Dr. Mills created an alluring and enticing site to both draw in patients and showcase his vast qualifications and experience in breast augmentation in Orange County. Crafted in partnership with Rosemont Media's skilled designers, developers, and writers, Dr. Mills' new website provides patients with an easy-to-navigate structure and straightforward, yet thorough information on his available breast surgery procedures. Social media connectivity and detailed content ensure patients receive the counsel and attentive care they deserve.
Utilizing the latest in plastic surgery website design techniques, the site is search engine optimized and targeted for success in a competitive market. Dr. Mills' site also integrates drop-down tabs and a tastefully organized photo gallery to give it a well-rounded, sophisticated feel.
To get a clearer picture of the type of website Rosemont Media can create for you and your practice, visit orangecountybreast.com.