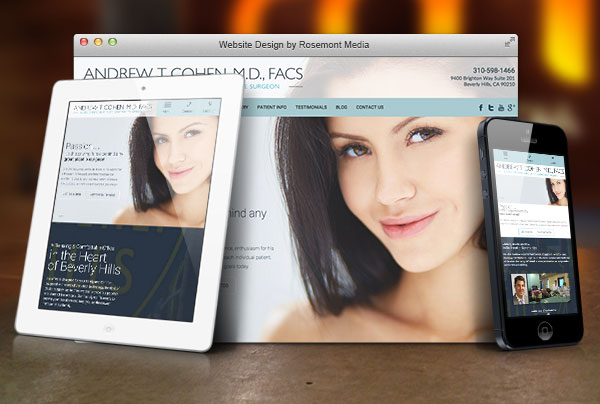 Project Details:
Launch Date:
April 2015
Page Count:
42
Services Overview:
Custom Responsive Design, SEO, CMS, Custom Content, Photo Upload Gallery, and Blog
Compatibility:
Desktop, Tablet, Mobile
Visit Website:
Categories:
The new website for Dr. Andrew Cohen, a plastic surgeon in Beverly Hills, offers a great example of just how successful the combination of innovation and technological savvy with style and substance can truly be. Rosemont Media's team of experts has designed a beautiful responsive website that incorporates some of the latest advances into an informative and comprehensive educational tool for visitors.
A responsive website design allows Dr. Cohen's new site to be read and navigated easily across a range of digital platforms, including laptops, desktops, tablet computers, and smartphones, without compromising the depth and breadth of content. You'll find innovative design elements such as parallax scrolling and inside pages that display the models as fixed images on the left side of the screen while the content scrolls on the right. Plus, on the home page, you'll notice the way the navigation and opening text "fly in" to the design – these unique creative additions give Dr. Cohen's website a kineticism and readability that can make it easier for the viewer to absorb and appreciate a number of visual elements without feeling overwhelmed. A fixed navigation on the inside pages, which travels along with the readers as they scroll their way up and down the page, also makes it easier for them to get to where they want to go on the site.
The website is equipped with a detailed biography and list of credentials for Dr. Cohen, as well as an overview of his treatment philosophy and comprehensive descriptions of the surgical and non-surgical procedures he offers. Along with a before-and-after photo gallery and a patient testimonials page, Dr. Cohen's website also features the latest medical SEO strategies and an updated blog, which can make it easier to continuously add content on a range of topics and help keep the site ranking high among search engines.
Blending a beautiful graphic design framework with thorough content and a user-friendly navigation, Rosemont Media's collaboration with Dr. Andrew Cohen has yielded a technologically advanced website that can help him maintain his visibility in the marketplace and serve as a welcoming virtual tour of his practice for potential patients.
Please view Dr. Cohen's site at www.drandrewcohen.com. If you would like to learn more about how Rosemont Media can create and maintain a custom-designed website for your practice, or even just revitalize your current site, please contact us today.