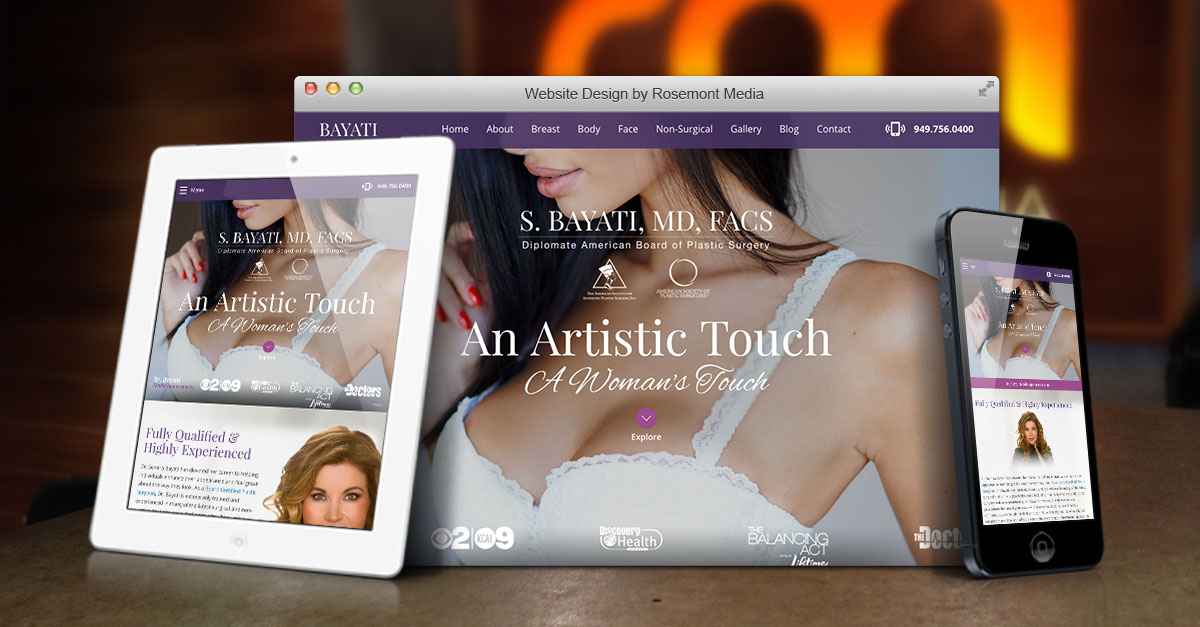 Project Details:
Launch Date:
May 2017
Page Count:
61
Services Overview:
Custom Responsive Design, SEO, Custom Content, CMS, Photo Upload Gallery and Blog
Compatibility:
Desktop, Tablet, Phone
Visit Website:
Categories:
Soft, inviting colors along with a heavy emphasis on imagery and content are some of the many aspects of the upgraded responsive medical website for Dr. Semira Bayati, a plastic surgeon in Orange County. Dr. Bayati has collaborated with Rosemont Media for many years, and recently decided that she would like to give her website a new and fresh look. With that in mind, our team completely revamped her site and equipped it with state-of-the-art design elements that provide viewers with a comprehensive, easily navigable, and quite beautiful virtual window inside her practice. The new site features a variety of eye-catching images as well as a thorough before-and-after photo gallery with categories that cover almost every one of the treatments Dr. Bayati performs. You'll also find innovative parallax scrolling on the homepage, the latest medical SEO strategies, and a fixed navigation that stays with the viewer no matter how far they move down on each page, making it easier to switch to other topics and pages on the website. Along with a detailed biography of Dr. Bayati and rich content explaining the procedures and services she offers, the site emphasizes one of her most popular options – the Mommy Makeover – helping her draw attention to the many potential benefits of this procedure.
Check out www.drbayati.com to see the results, and contact Rosemont Media today with any questions you may have about taking your website in a beautiful new direction.