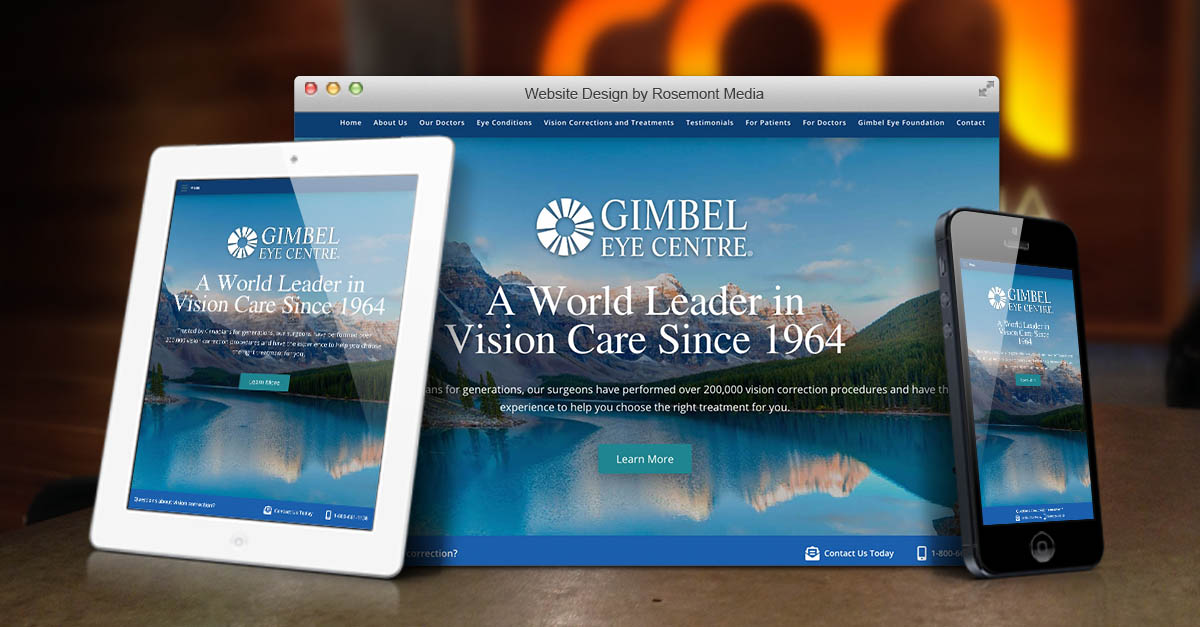 Project Details:
Launch Date:
September 2020
Page Count:
31
Services Overview:
Custom Responsive Design, SEO, Custom Content, CMS, and Blog
Compatibility:
Desktop, Tablet, Mobile
Visit Website:
Categories:
Gimbel Eye Centre is known as Calgary's leader in vision care since 1964. The Medical Director of the practice, Calgary eye surgeon Howard Gimbel, MD, is a pioneer in the field of ophthalmology. In fact, Gimbel Eye Centre has the distinction of being the first in Canada to perform laser vision correction and implantable corrective lens procedures. With all of this in mind, the practice collaborated with Rosemont Media to give its current website a substantial upgrade and provide viewers with an expansive new look at the many state-of-the-art eye and vision care options available.
For starters, the custom responsive website design allows the site to be viewed in full (without sacrificing content or ease-of-navigation) on all major types of digital devices. The homepage entices viewers with beautiful imagery of the natural world that is so identifiable with the Alberta, Canada environment. The main navigation bar at the top is fixed in place, making it consistently easy for viewers to find what they are looking for across the site's 31 pages. Custom content provides readers with a comprehensive educational resource on a variety of eye conditions and treatment options, including cataract surgery, LASIK, refractive lens exchange, and more. Plus, the site includes detailed biographies of its many ophthalmologists and optometrists, pages devoted to the practice's charitable outreach efforts and overall philosophy of care, and a helpful guide for doctors who wish to refer patients to Gimbel Eye Centre for treatment. Additionally, the website has been equipped with advanced medical SEO tactics to help the practice maintain its high rankings among search engines.
Take a look at gimbleeyecentre.com to view the new website and see how the latest design, content, and technological strategies can work together to produce an informative and pleasant online experience. If you would like to learn more about what Rosemont Media can do for your practice, please contact us today!