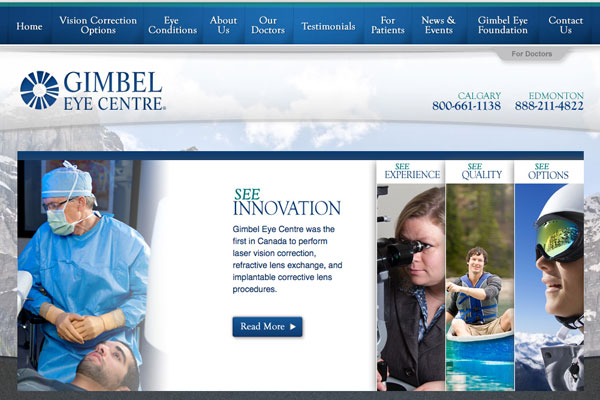 Project Details:
Launch Date:
July 2012
Page Count:
46
Services Overview:
Custom Design, SEO, CMS, JavaScript Slide Show, and Blog
Compatibility:
Desktop
Visit Website:
Categories:
For its new website, the Gimbel Eye Centre for LASIK surgery in Calgary, AB sought to capture the beauty of vision clarity and the wonders of modern ophthalmology by merging a visually stunning design with a vast wealth of in-depth procedure information. The site features an easy-to-navigate structure with a drop-down menu and dynamic, eye-popping graphics that highlight the Gimbel Eye Centre's dedication to comfort, quality, and professionalism. Whether they are looking for a refractive lens exchange or implantable contact lens procedure, patients will find the new website both welcoming and educational, a credible resource for all their vision correction needs. Partnering with Rosemont Media, the Gimbel Eye Centre was able to work side-by-side with our team of developers, writers, and graphic designers to construct a completely custom layout that addresses the full extent of their dedicated and experienced practice.
The new Gimbel Eye Centre website is also optimized using the latest SEO and medical website design techniques to ensure its visibility and success in a competitive market. Through quality content and cutting-edge design, our team is confident patients will return to the Gimbel Eye Centre's website again and again for reliable and accurate ophthalmology information.
For a better picture of the type of website Rosemont Media can create for you and your practice, visit gimbeleyecentre.com.