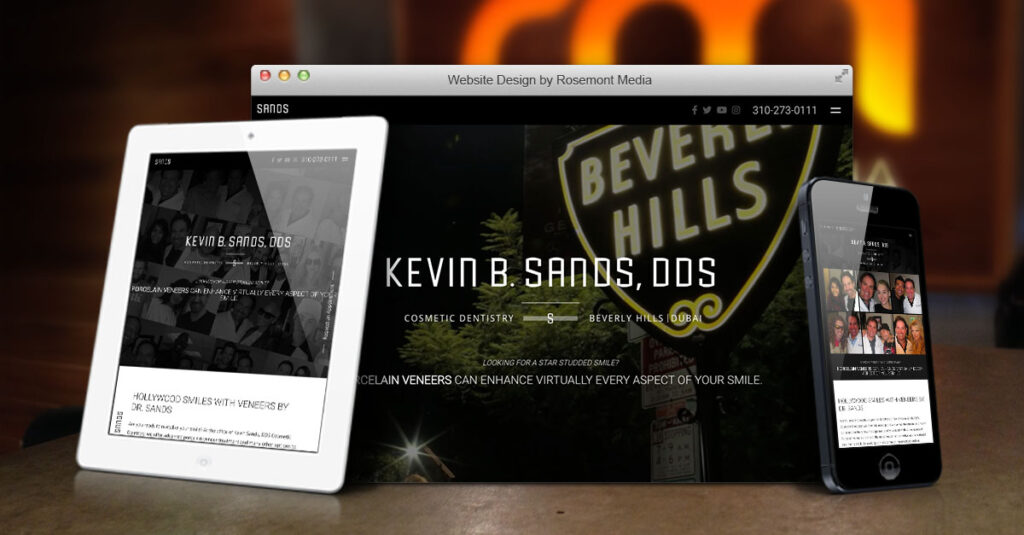 Project Details:
Launch Date:
March 2020
Page Count:
17
Services Overview:
Custom Responsive Design, SEO, Custom Content, CMS, Photo Gallery, and Blog
Compatibility:
Desktop, Tablet, Mobile
Visit Website:
www.porcelainveneersinbeverlyhills.com
Categories:
Top Beverly Hills cosmetic dentist, Kevin B. Sands, DDS, has to keep pace with his high-profile patients, and that means maintaining a state-of-the-art online presence. When the time came to fully redesign and update his porcelain veneer-focused specialty website, he turned to his trusted team of experts at Rosemont Media to develop a personalized masterpiece that suited his needs perfectly. Visitors are introduced to the practice through a custom homepage video highlighting iconic sights of Beverly Hills and Dr. Sands' most famous celebrity patients. In addition to the gorgeous, modern responsive design, the website—which looks great and functions optimally on mobile and stationary devices—is easy to explore and filled with high-res photos of patient's smiles, along with educational content about porcelain veneers and Dr. Sands' unique smile makeover process. The website also features advanced dental SEO for maximum visibility in search engine results, a blog to keep patients up to date on the latest porcelain veneers trends, as well as easy-to-use email forms and click-to-call buttons to help users connect with the practice.
We invite you to visit porcelainveneersinbeverlyhills.com to see an example of the amazing work our team at Rosemont Media is capable of!