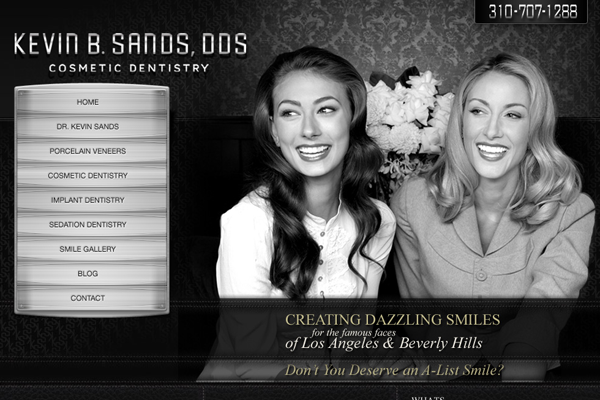 Project Details:
Launch Date:
August 2009
Page Count:
27
Services Overview:
Redesign, CMS, SEO, Custom Content, Video, Blog
Compatibility:
Desktop, Tablet, Mobile
Visit Website:
www.beverlyhillscosmeticdentist.com
Categories:
Dr. Kevin Sands is a prolific dentist in Southern California, and he wanted a website that gave a terrific first impression of his Beverly Hills cosmetic dentistry practice. Our team has created an innovative, sleekly designed website that showcases Dr. Sands and his accomplishments, as well as doing our best to see that he is easier to find on search engines in the densely populated city of Los Angeles. The new site includes detailed procedure descriptions and a biography of Dr. Sands, as well as quick links to his social media pages and an expansive "Media" section with links to the many varied publications and magazines in which he has been featured. The navigation is user-friendly and the search-engine optimized content is informative without being overwhelming. In addition to a before-and-after photo gallery and an updated blog, the homepage flash animation includes a variety of pictures of Dr. Sands with some of his celebrity clients, including Charlie Sheen, Morris Chestnut, and Britney Spears, and the website's colors and design scheme give visitors an elegant, film-like impression of his practice.