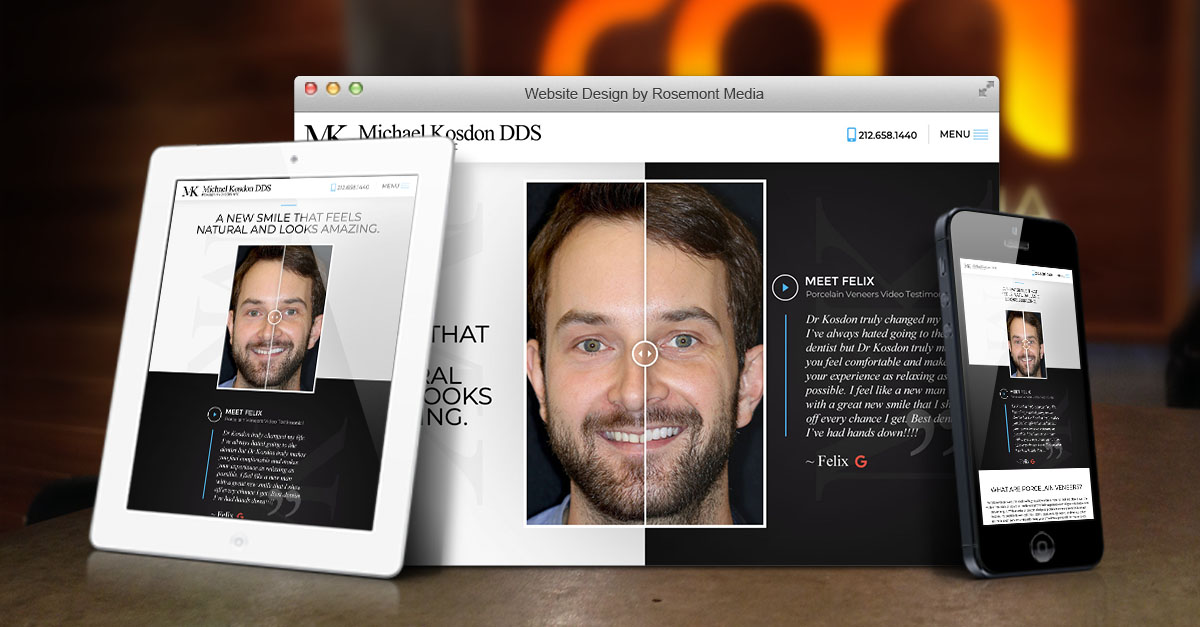 Project Details:
Launch Date:
November 2019
Page Count:
14
Services Overview:
Custom Responsive Design, SEO, Custom Content, CMS, and Photo Upload Gallery
Compatibility:
Desktop, Tablet, Mobile
Visit Website:
Categories:
Dr. Michael Kosdon is a leading porcelain veneers dentist in NYC providing beautiful, natural-looking smile makeovers and aesthetic smile enhancements to a wide range of patients who desire top-quality care. Using his experience and skill, along with superior ceramic materials and state-of-the-art technology, Dr. Kosdon creates personalized porcelain veneers solutions that align with each patient's needs, goals, lifestyle, and facial appearance. With his new specialty website from Rosemont Media, Dr. Kosdon wanted to spotlight his unique porcelain veneers process and the outstanding results that set him apart from other dentists. The custom website beautifully displays digital images of his transformative work, explains the smile makeover procedure in detail, showcases his facility, and answers any questions prospective patients may have about porcelain veneers. The modern, elegant design is sleek and stylish, and the website is easy to navigate using the intuitive drop-down menus. In an effort to boost Dr. Kosdon's visibility in Google searches for the porcelain veneers services he provides, his website also includes custom-tailored search engine optimization (SEO). The advanced dental SEO combined with the responsive design of the website helps maximize the number of users who discover and are able to explore the website using a variety of Internet-connected devices, such as laptops, tablets, desktop computers, and smartphones. The responsive website fits the screen on each device to adjust the visual layout and site functionality for a superior user experience.
To check out Dr. Kosdon's specialty dental website created by Rosemont Media, we invite you to visit www.veneers.nyc.