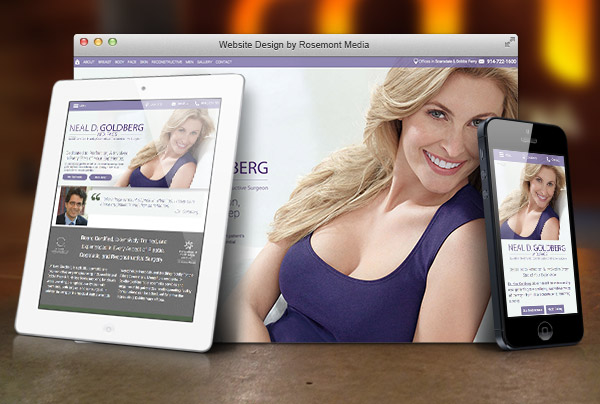 Project Details:
Launch Date:
May 2015
Page Count:
54
Services Overview:
Custom Responsive Design, SEO, CMS, Custom Content, Photo Upload Gallery, and Blog
Compatibility:
Desktop, Tablet, Phone
Visit Website:
Categories:
In an era of increasingly businesslike plastic surgeons, Dr. Neal D. Goldberg's cosmetic enhancement and reconstructive surgery practice emphasizes a personal, compassionate, and welcoming touch for men and women seeking a change. To further this goal, he decided to partner with Rosemont Media to upgrade his practice website to include a more user-friendly adaptable format. Additionally, our team of writers, designers, and developers introduced aesthetically appealing design elements and abundant medical content to provide an enhanced patient experience for visitors browsing from nearly any location.
One of the many factors important to Dr. Goldberg was updating to a mobile-friendly website design compatible with Google's new guidelines. As a result, visitors have easy access to practice and procedure information from smartphones, laptops, tablets, and other Internet-capable mobile devices. Rosemont Media's team also optimized the pages, utilizing the latest medical SEO strategies to help the site rank highly on search engines. Furthermore, the modern, tranquil color palette, fixed image background, and other contemporary design elements—particularly the interactive graphic of a woman practicing yoga near the footer—offer a balance of beauty and function. Combined, these components create an attractive and easy to navigate layout that highlights Dr. Goldberg's eye for detail.
"I take a huge amount of pride in what I do. I really care about my patients and their satisfaction," Dr. Goldberg reveals on his site. He hopes the launch of his state-of-the-art new website, designed to reflect his philosophy of excellence, can be a useful resource for individuals who are seeking information about cosmetic and reconstructive procedures in the Scarsdale and Dobbs Ferry, New York area and beyond.
Interested in viewing an example of Rosemont Media's customized responsive website designs? Visit doctorgoldberg.com, or contact us today to see how we can help modernize your practice website.