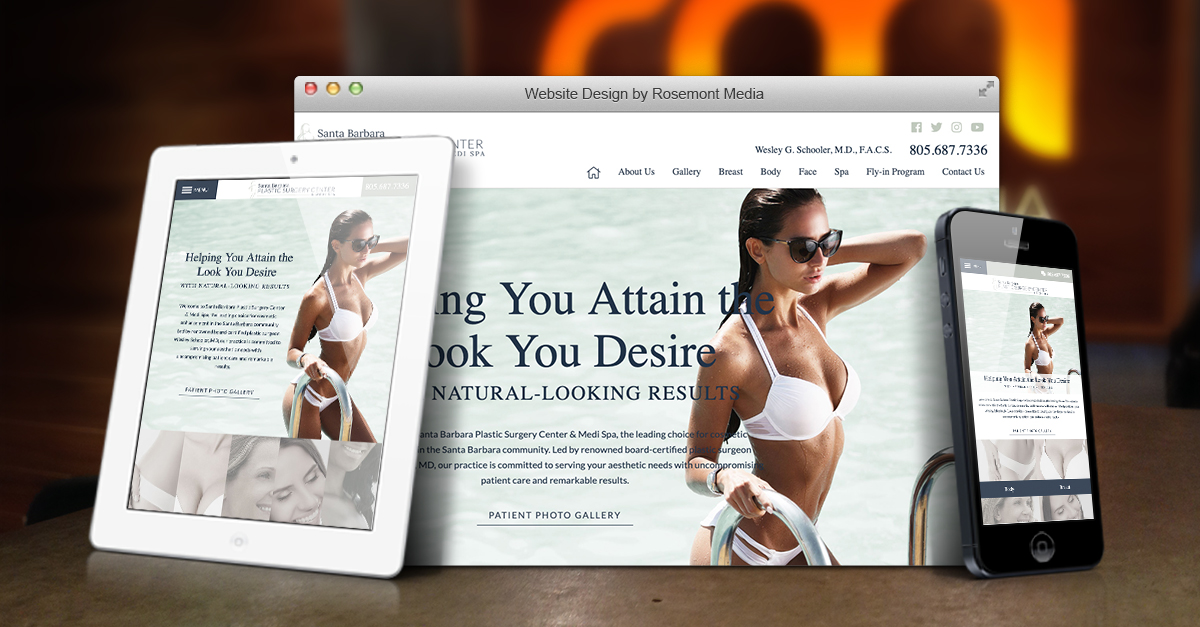 Project Details:
Launch Date:
June 2019
Page Count:
48
Services Overview:
Custom Responsive Design, SEO, Custom Content, CMS, Photo Upload Gallery, and Blog
Compatibility:
Desktop, Tablet, Mobile
Visit Website:
Categories:
Santa Barbara Plastic Surgery Center is a prime destination for aesthetic enhancement and plastic surgery in the Southern California region. To accurately capture the high-quality service and bright, beachy ambience that distinguish the SoCal practice, the digital strategists at Rosemont Media collaborated with lead plastic surgeon Wesley Schooler, MD to create an elite medical website design built to convey need-to-know treatment information without sacrificing a modern, user-friendly experience.
The fully responsive site is highlighted by a sleek, sunny theme that perfectly evokes the luxurious environment at Dr. Schooler's first-rate practice and medical spa. Stand-out features woven into the design include custom pages detailing the most popular cosmetic procedures—breast augmentation, tummy tuck, and rhinoplasty—as well as an extensive before-and-after photo gallery. With these and other helpful resources integrated seamlessly into the site, prospective patients easily find answers to their most burning questions about Dr. Schooler and/or the treatment process. Targeted content marketing and SEO strategies are the cherry on top of the visually stunning site, helping ensure Santa Barbara Plastic Surgery Center is positioned directly in front of the very people searching for top-notch cosmetic services in the area.
Ready for a website makeover? The creatives at Rosemont Media are here to help. See the beautiful outcome of our collaboration with Dr. Schooler at www.sbplasticsurgery.com and don't forget to contact our team for more information about our dynamic digital marketing strategies.