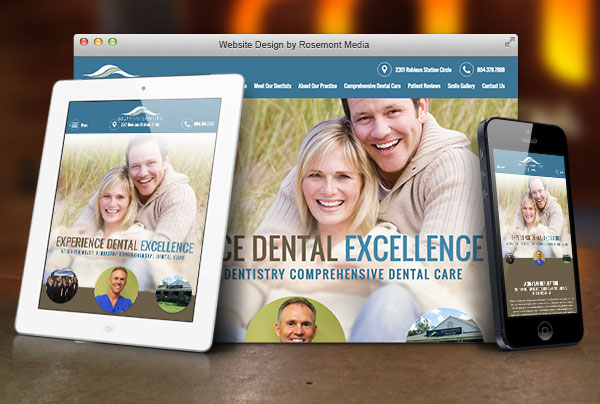 Project Details:
Launch Date:
August 2016
Page Count:
29
Services Overview:
Custom Design, SEO, CMS, Custom Content, Photo Upload Gallery and Blog
Compatibility:
Desktop, Tablet, Phone
Visit Website:
Categories:
Innovation and comfort converge at South River Dentistry, a modern dental practice in the Richmond and Midlothian, VA area. With the aid of Rosemont Media's skilled team of designers, developers, and writers, the office's emphasis on excellence was recently carried through to the online experience. The extensively credentialed dentists upgraded to a responsive website designed to suit the needs and lifestyles of their sophisticated patients. In addition to having an easily navigable layout and state-of-the-art SEO strategies, the site offers users convenient access from laptops, smartphones, tablets, and other mobile devices, as well as desktop computers. South River Dentistry particularly wanted to highlight the comprehensive education and training of the dental team. Founding dentist Jeff T. Blackburn, DDS is a Fellow of the Academy of General Dentistry and the only dental professional in the area capable of performing gum rejuvenation using the Chao Pinhole® Surgical Technique (PST). Patient confidence is essential, and the new website was created to provide reassurance in the quality, safety, and results of every treatment. To see what an elegant, customized dental website from Rosemont Media can look like, please visit midlothiandentist.com.