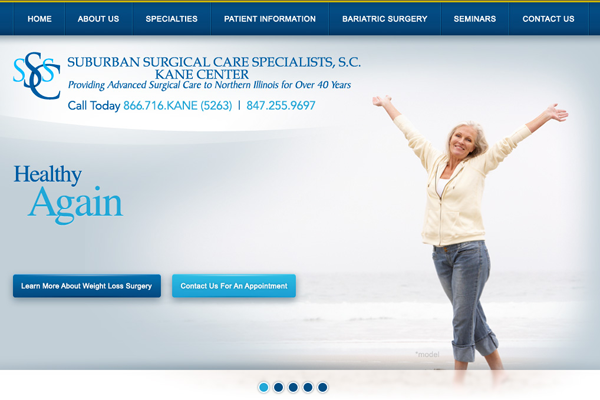 Project Details:
Launch Date:
August 2011
Page Count:
58
Services Overview:
New Custom Design, CMS, SEO, Custom Content, HTML 5 Video, Photo Upload Gallery and Blog
Compatibility:
Desktop
Visit Website:
Categories:
The new website for Suburban Surgical Care Specialists is a seamless blend of visually captivating graphics and informative text. Providing a wealth of in-depth information for prospective and current patients, the website utilizes a simple, yet beautiful layout to structure the Suburban Surgical Care practice around patient care and education. By incorporating an aesthetically pleasing and soft color scheme, graphics and menus flow artfully on the page without sacrificing any of the important patient information on procedures including endocrine surgery and LAP-BAND® surgery. Drop-down menus provide a framework that is both functional and easy-to-use. Links to information on procedures, educational seminars, and support group schedules make navigation quick and helpful.
Suburban Surgical Care Specialists worked with medical website design firm Rosemont Media to create a custom and unique website that highlights and focuses on the dedicated patient care that they seek to provide. The website also includes a video gallery, online store, and social media buttons to help patients stay connected and informed through interactive and engaging features.
To see more of what Rosemont Media can create for you and your practice, visit suburbansurgicalcare.com