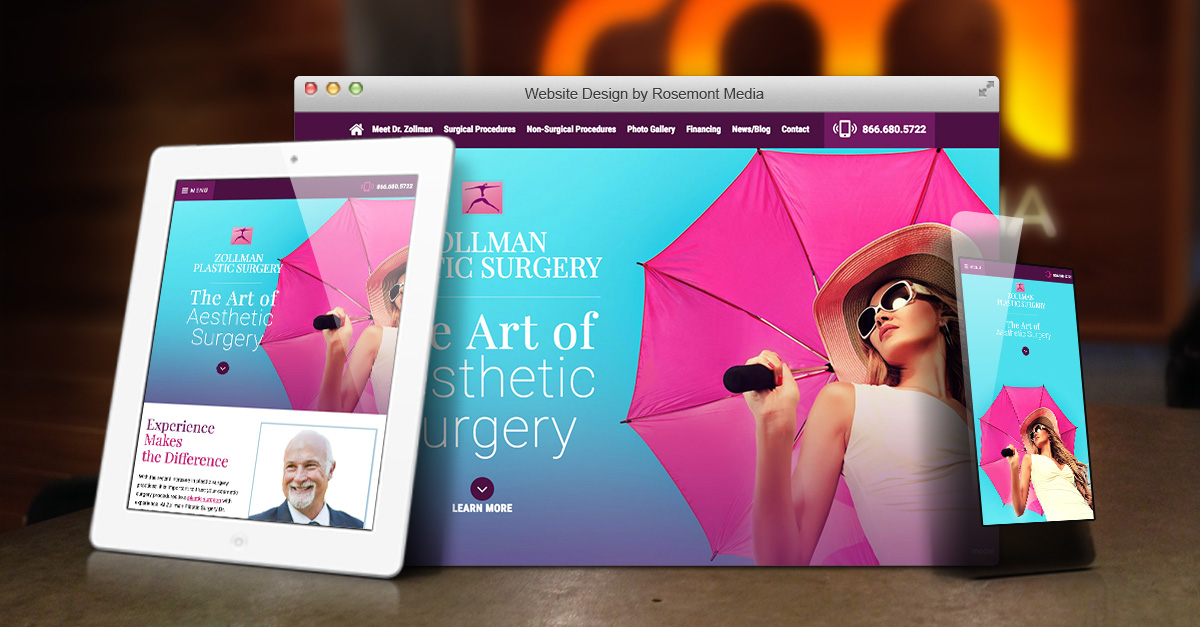 Project Details:
Launch Date:
February 2018
Page Count:
33
Services Overview:
Custom Responsive Design, SEO, Custom Content, CMS, Photo Upload Gallery, and Blog
Compatibility:
Desktop, Tablet, Mobile
Visit Website:
Categories:
With the help of our team at Rosemont Media, Dr. Wally Zollman—a top plastic surgeon in Indianapolis, IN—transformed his online presence with a new custom website featuring ultra-modern functionality, comprehensive educational content, dynamic design features, and advanced medical SEO marketing capabilities. The vibrant color scheme, elegant imagery, and state-of-the-art homepage design elevate the look and user experience of the website, while drawing attention to Dr. Zollman's more than 25 years in practice and in-demand areas of expertise.
Additional key features include:
The website's responsive design—which adjusts to fit screens on internet-connected smartphones, laptops, tablets, and desktop computers alike—makes Zollman Plastic Surgery accessible online to a wider range of mobile, at-home, and on-the-go users searching for world-class plastic surgery.
Well-organized and informative content that describes procedures, treatments, and the practice, in addition to a regularly updated blog covering the latest news on cosmetic enhancement and plastic surgery.
A digital photo gallery featuring detailed before-and-after images of patients who have benefited from treatment with Dr. Zollman.
To explore the website experience that Rosemont Media can provide for your practice, please visit www.zollmansurgery.com.