The Importance of High-Quality Links
When you first introduce yourself to someone, you shake his or her hand. One of the most familiar and respected forms of greeting, the handshake can reveal quite a bit about the parties involved. Similar to this gesture, a link introduces a user to more information. High-quality links are warm, friendly, and inviting. Low-quality links are awkward, uncomfortable, and off-putting. Google analyzes your links—both the ones on your site and the ones pointing to it from other sites—and determines whether they are high- or low-quality. If Google decides you play well with others, it may increase your site's PageRank and position you where current and prospective patients can find you easily. If the search engine giant concludes that you need more time to practice your social skills before being allowed around others, it may hide your site away completely. Rosemont Media and our team of web etiquette experts can help your medical practice develop a Google-approved handshake—one that makes an excellent, memorable, and lasting impression to all the right people.
In more specific, analogy-free terms, links help determine where your website will be located within the Google search results. You want to be high on page one. In addition to shuttling visitors around to different parts of the Internet, links are also representatives for your site. Each one is a vote recommending the page to which it directs. All links, internal and external, have "link juice," an industry term that refers to the quality of the link. Juicy links come from relevant, high-ranking sites with prestige. As a result, they have a larger positive influence on your rank than links with little juice. A common problem for many medical sites is the proliferation of toxic, low-quality links. These need to be removed, disavowed, or modified to improve the site's online visibility.
To help you better appreciate the importance of both good and bad links, we have provided a helpful resource below. RM utilizes innovative and ethical medical SEO strategies to help you make a great impression now and every time a patient visits your website.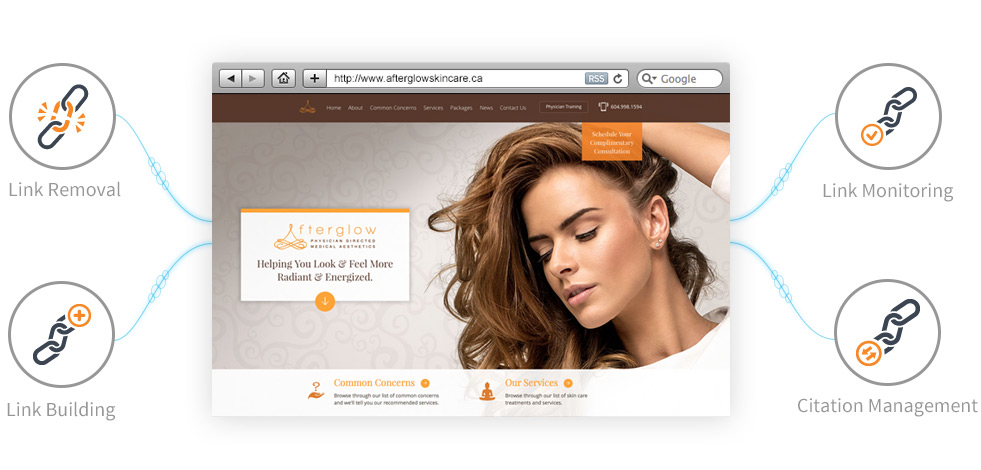 Link Removal
All links are not the same. Aggressive, spammy links are the equivalent of a bone-crushing handshake from an over-eager salesman. Examples of this unethical style include utilizing external links from suspicious, irrelevant sources such as comment sections of popular blogs and paid "link farms." These black hat tactics violate Google's webmaster guidelines. To combat these tactics, Google uses its Penguin update, which penalizes bad linking practices, to seek out offenders and place them in a time out—far from the first page of results and potentially off the index entirely. The Penguin update can also benefit your website. It acts as a Google index refresh, which will reward websites that have cleaned up their toxic link profile. As a result, the site's ranking will often move in a positive direction.
We understand that it's often not your fault when poor quality links, duplicate content, or excessive keywords pepper your medical website; you may have just trusted the wrong people to handle your marketing needs. However, Google will still tag your site with an algorithmic penalty or Google Manual Action if a bot or employee discovers this behavior, regardless of your intentions. Never fear; RM is here! Our savvy team of experts can seek out the offending links, remove, disavow, or modify them, and negotiate with Google to bring your site back from the abyss. Furthermore, once your website has returned to the playing field, we can establish honest, organic link-building strategies that position your site as a reliable resource. Once your digital handshake has been upgraded, you'll be meeting and greeting appropriate visitors from your lofty PageRank in no time.
Link Building
While nobody likes a handshake that causes damage, nor do they appreciate one that is weak. An inadequate squeeze can signify disinterest, lack of confidence, or incompetency. This translates as a halfhearted linking strategy and little to no content. Faced with the threat of punishment if you utilize links incorrectly, you may have opted to skip this marketing tactic entirely. The result, unfortunately, is that your medical website could become essentially invisible. To Google, you may appear as an unknown, or even untrustworthy, entity. Without other websites linking to your site, Google may assume you can't play well with others or have little to offer as a resource. This could lead to your site being placed in the back of the line. RM's link-building strategies can communicate to Google that you're reliable, professional, and active, which can push you closer to the front of the queue.
Google uses Penguin to identify bad linking, and it uses its Panda algorithm to identify bad content. As a result, you must resist the urge to "borrow" content, even from other sites you may own. RM's medical content marketing strategies emphasize original, compelling, and informative material that is naturally interspersed with helpful links in a way readers, and therefore Google, want. This is just one effective means of building high-quality internal links. Other excellent link building options include creating, optimizing, and syndicating press releases. Another is listing your practice consistently across appropriate business directories (which we talk about later). There is a wide range of ethical options, and our writers, designers, developers, and consultants know them all. Let us put our knowledge to your good use.
"Links help determine where your website will be located within the Google search results."
Link Monitoring
We don't want to alarm you, but you're not the only one who can direct links to your website. A competitor in your area, for instance, can pay someone to build a negative SEO campaign against your website. The goal of this approach would be to inundate your site with thousands of toxic links originating from the darkest corners of the web, potentially resulting in Google penalizing your website and your rankings diving. Google's algorithms are sophisticated, but they can only identify and assess links on a spectrum from good to bad. Who created the links? Who owned the content first? These are finer nuances than the bots can comprehend. A dedicated link monitor can help; a firm focused on managing the quality of your internal and external links, addressing perfidious tactics, and optimizing your visibility in your online marketplace.
Link monitoring from RM serves as quality control and protection. We keep your handshake firm and friendly while vigilantly watching for malicious outside action. As a result, you can relax knowing your practice website is in good hands.
Citation Management
Say you want to meet new, likeminded people. You would probably go where you would most likely find them, introduce yourself, shake hands, and provide some basic information so they could contact you in the future. That's what local directories, business citations, and aggregator tools do for you. They are applications that list your practice name, phone number, and address as a resource for existing and potential patients. Not only do you want to have your details available on the right directories, but you also want that info to be consistent. This enhances your professional appearance and helps to ensure no individuals interested in contacting you get lost on their way. For these reasons and more, citation management is a primary component of a good linking strategy.
Monitoring citations might sound like a walk in the park. After all, how hard is it to type your own name? However, there are medical practices that are listed on over 50 directories, and each one must be reviewed for quality and accuracy. Something as simple as saying "Suite" rather than "Ste." on the address can occasionally confuse Google, which is also surveying these tools. Leave the time-consuming task to us. We know how to zero in on typos and errors and expeditiously amend them. Our partnership with Yext, the industry leader in Digital Location Management software, allows us to manage and monitor multiple business citations simultaneously. As a result, your online presence matches that of your real-life office: professional, diligent, and open for business.
Linking is a simple concept that becomes complex in practice. We understand that the details can be a lot to absorb. If you have additional questions about how RM can use link removal, building, and monitoring to boost your practice website's PageRank, we'd like to extend our hand. Contact us today for more information.
Curious about the cost?
Rosemont Media offers complete package solutions that are tailored to your specific marketing goals. Visit our pricing page for more information or contact us today to receive a personalized quote.
ARE YOU READY TO TAKE
Your Practice to the Next Level?