Why Should I "Google My Business"?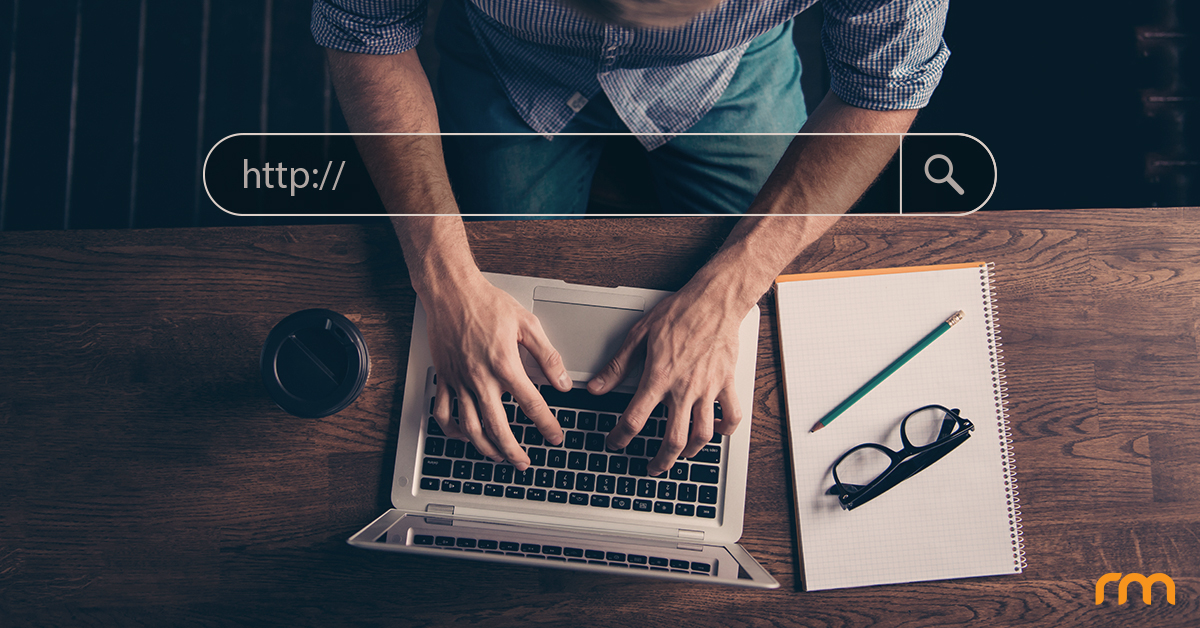 Word of mouth can be great for business, but inspiring people to choose your practice these days requires you to have a well-established presence online. Patients are utilizing Internet searches and review outlets to find medical and dental professionals quickly, easily, and reliably. In addition to having a responsive website and social media profiles, optimizing your Google My Business profile can provide a significant boost for your practice—and best of all, it's free!
What Is Google My Business?
Google My Business is a valuable tool offered by Google that creates the ability to list your practice in local search and maps. GMB has been upgraded to suit the complex needs of both professionals and consumers. It offers complimentary real estate at the top of Google for competitive searches and expands the information available in direct searches.
To reap the benefits of Google My Business, you first need to verify your business. Your GMB profile integrates a number of enticing features while displaying the details you've chosen to share. In addition to core business information, like your phone number, hours, and website, you can optimize your listing through a wide selection of attributes. This allows potential and existing patients to find you—you guessed it—quickly, easily, and reliably when browsing Google Search or Google Maps.
As GMB has evolved over the years, it has become one of the most powerful ways for you to establish your credibility online while reaching prospective patents. When you not only set up, but maintain your Google My Business profile, you're contributing to Google's Knowledge Graph—the database used by Google to constantly improve search results based on information it collects from a wide range of online sources.
Where Do Google My Business Listings Show Up?
Your Google My Business profile feeds a variety of places within Google to help people find you in local search. Some of the most prominent locations include the Google Knowledge Panel, Google Local Pack, and Google Maps.
Google Knowledge Panel
The Google Knowledge Panel (or Card) is designed to showcase your practice details to Internet users who search your name. When a branded term is searched, the user can find an aesthetically pleasing panel on the right side (for desktop) or toward the top of results (for mobile). The best part? You can tell Google My Business what information you want displayed here.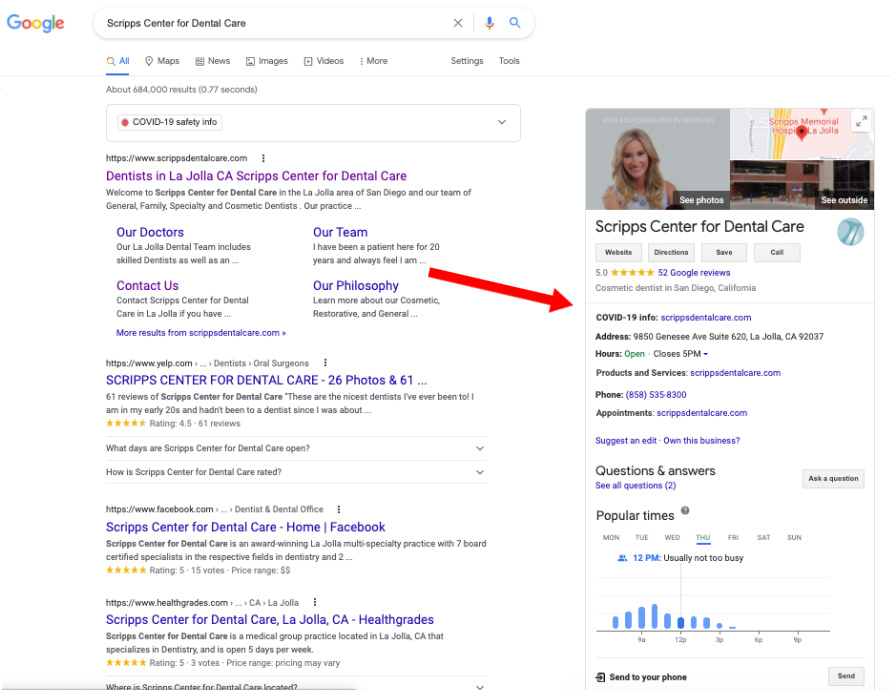 Google Local Pack
The Google Local Pack (or Local Finder) is a collection of three listings that show up when someone searches for local information, like "cosmetic dentist la jolla." This Google 3-Pack is just below the advertisements on the results page of a competitive search, making it a convenient (and visually appealing) way for users to find potential matches within their area.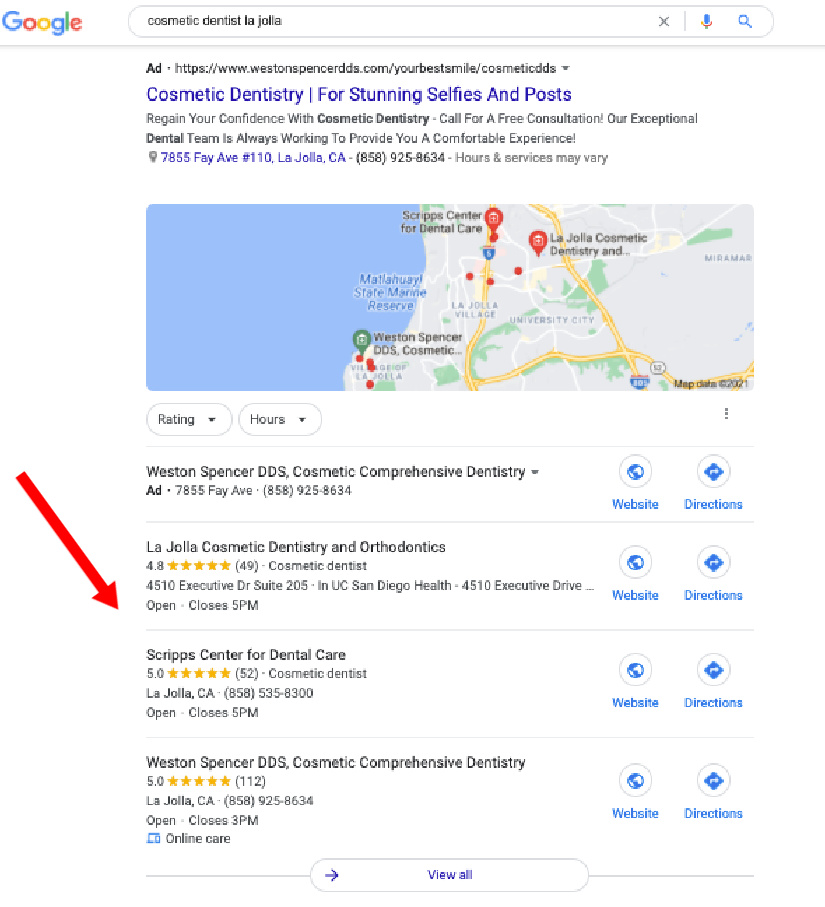 Each match offers a snippet of information chock full of vital details, such as the website, number of reviews, and phone number of a business. Being a member of this elite club offers a prime opportunity to reveal the particulars of your practice from a coveted location, and Google My Business can put your name on that list.
Google Maps
Whether used in app form or in a browser, Google Maps offers people a way to find businesses near them, as well as directions. Depending on where a person is searching, the closest matches to their query will be listed next to the map (as seen in the image below). If the searcher clicks on one of the business listings, a more detailed panel will appear, sharing the many details provided from their Google My Business listing.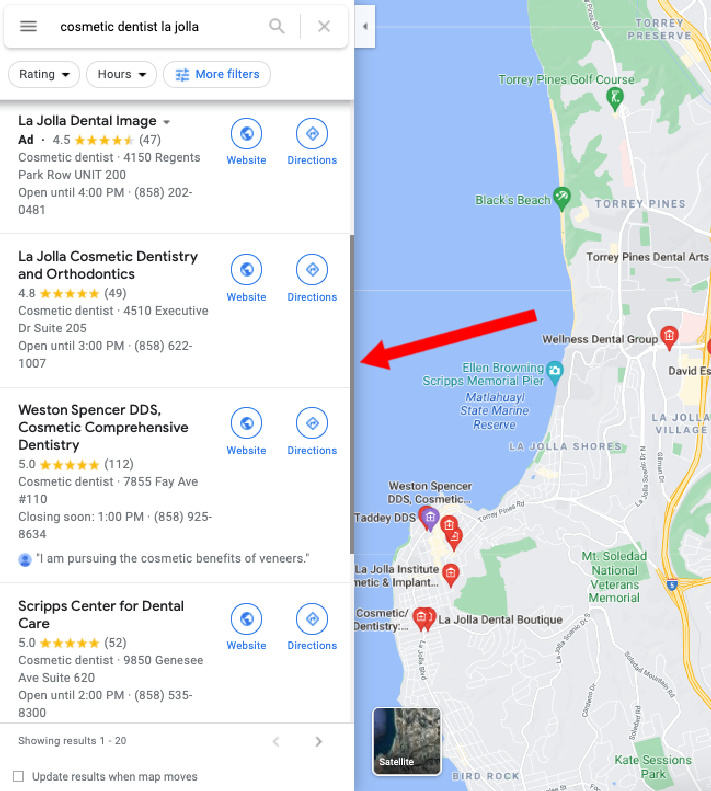 Another way you can leverage your Google My Business profile to show up in local results, like in Google Maps and Local Pack, is to link your Google Ads account. By opting in to have your GMB listing included in paid results, you have the potential to get top placement in these popular resources. As a Google Premier Partner, our team at Rosemont Media is considered an elite provider of Google Ads, having shown advanced skill and expertise with search advertising. Our specialists can advise you on how to design your ad budget and campaigns to get your practice seen first for local searches.
Have You Optimized Your Google My Business Listing?
Google My Business is a service dedicated to making your practice as accessible, appealing, and state-of-the-art as possible. With integrated access to multiple popular apps, the potential to customize your practice's shared details on the web, and the opportunity to snag choice property on page one, Google My Business is worth its server weight in gold.
In an age where businesses can suddenly flourish or suffer based on Google's changing algorithms, you can develop a strong online reputation and get noticed with Google My Business. If you're interested in learning more about how Google My Business can work for your medical or dental practice, or if you need help optimizing your practice's website, please contact us today!
Editor's Note: The original version of this post was published on February 24, 2015.