Central New Jersey Orthopaedic Surgeon Launches New Responsive Microsite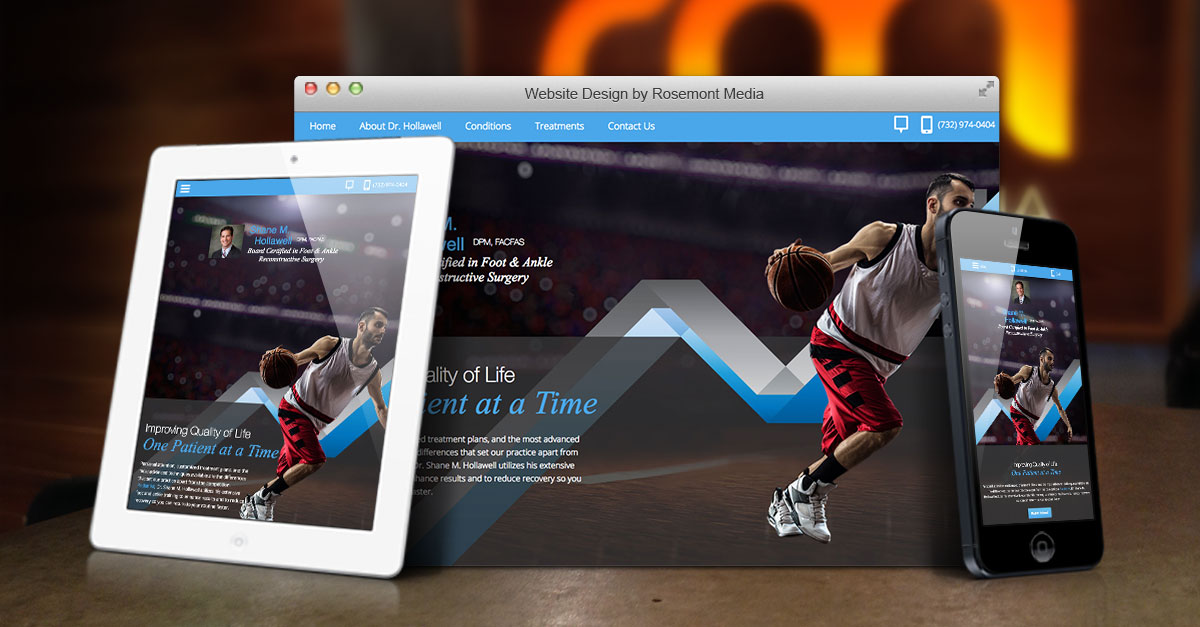 Dr. Shane M. Hollawell recently unveiled a responsive website designed to provide round-the-clock access to an informative medical resource on foot and ankle conditions.
Wall, NJ — Pain and injury can significantly disrupt a patient's life, which is why Dr. Shane M. Hollawell, an orthopaedic surgeon in Central New Jersey, believes convenient access to accurate information is essential. To provide this service, he partnered with medical marketing agency Rosemont Media to create a modern, user-friendly microsite that could function as a reliable medical resource. The state-of-the-art website Dr. Hollawell and Rosemont Media developed features a robust but tasteful selection of today's leading design elements.
Populated with the details patients often seek, the five-page website offers simple explanations of common foot and ankle conditions and treatment options offered by Dr. Hollawell at his practice. A selection of patient testimonials and a physician bio help current and prospective clients get to know Dr. Hollawell, as well as bolster the surgeon's online reputation. Bold imagery featuring athletes, active people, and business men and women underscores the diverse range of individuals he treats.
In addition to building the site with streamlined navigation and a modern layout, the website also features a responsive design. Now, mobile users can comfortably explore the content from smartphones, tablets, laptops, and other Internet-capable devices.
Dr. Hollawell practices at the Orthopaedic Institute of Central Jersey, an advanced sports medicine practice equipped with the latest technology. He hopes the new microsite will enhance patient access to information about common and complex foot and ankle concerns, as well as provide support to individuals hoping to maintain an active and pain-free lifestyle.
About Shane M. Hollawell, DPM, FACFAS
Dr. Shane Hollawell is double board certified in foot surgery and reconstructive rearfoot and ankle surgery. An All-American, National Player of the Year nominee in football, he earned his undergraduate degree from Moravian College and his Doctorate in Podiatric Medicine from Temple University School of Podiatric Medicine. Dr. Hollawell went on to complete additional medical training at MCP Hahnemann University and currently serves as an attending physician in the orthopaedic residency program at Rutgers Robert Wood Johnson Medical School. He is available for interview upon request.
For more information about Dr. Hollawell, please visit drshanehollawell.com, orthoinstitute.com, and facebook.com/OrthopaedicInstituteofCentralJersey