Las Vegas Orthopaedic Surgeons Unveil Responsive Update to Practice Website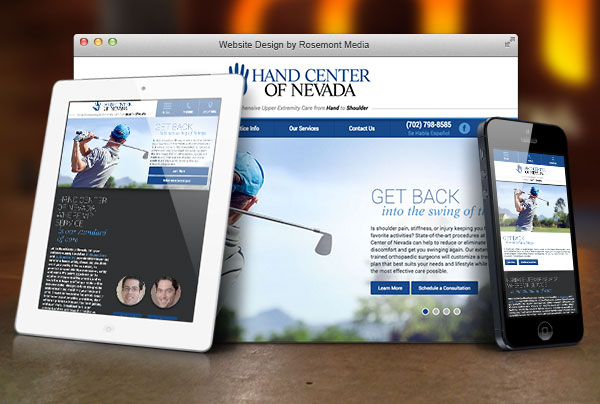 Drs. George Gluck and James Vahey of the Hand Center of Nevada reveal a modernized practice website with responsive capabilities, resulting in an improved user experience.
Las Vegas, NV — Modern patients routinely source medical information online, reveal Las Vegas orthopaedic surgeons George Gluck, MD and James Vahey, MD. In response, they recently collaborated with Rosemont Media, a medical Internet marketing firm, to update their practice website to appeal to a wider range of patients and to provide a comprehensive resource on orthopaedic conditions of the upper extremity. The Hand Center of Nevada site now features a state-of-the-art adaptable format, an aesthetically pleasing layout, and leading medical SEO strategies that help to position the practice favorably in its online marketplace.
With the new responsive website design, visitors can easily access an expansive selection of original content from the convenience of their Internet-capable mobile devices. Furthermore, the versatile format will automatically adjust to suit the screen dimensions of desktop computers, laptops, tablets, and smartphones, reducing the need to zoom in and out to view the pages. The site also incorporates a clean and modern color palette, an easily navigable interface, and an interactive map to mimic the accommodating feel of an office visit.
Drs. Gluck and Vahey explain that exceptional patient care is a foundational principle of their practice, which extends to their online office. They say timely treatment is necessary to achieve superior orthopaedic care, and they believe the new site can expand access and provide a level of near-instant virtual assistance when needed most.
About Hand Center of Nevada
Led by two board certified orthopaedic surgeons, Dr. George Gluck and Dr. James Vahey, the Hand Center of Nevada offers comprehensive upper extremity care to individuals in the Las Vegas and Henderson, Nevada area. In addition to addressing workers compensation claims, the practice also specializes in pediatric orthopaedic care and the prompt treatment of acute injuries. The extensively trained medical staff emphasizes excellence at every step, and the practice is equipped with state-of-the-art technology to optimize patient comfort and healing.
For more information about the Hand Center of Nevada, please visit handtoshouldersurgery.com and facebook.com/handtoshouldersurgery.