Quad Cities Orthopaedic Surgeons Launch New Responsive Website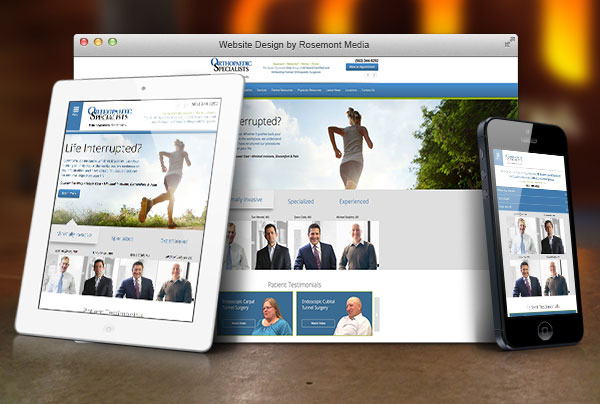 The physicians of Orthopaedic Specialists, P.C. recently unveiled their updated practice website that acts as a comprehensive patient resource in a convenient layout and adjustable format.
Davenport, IA – Orthopaedic Specialists, P.C. offers advanced orthopaedic care to the Quad Cities area with treatments ranging from sports medicine to total joint replacement. The experienced team has recently announced the launch of a new practice website, which aligns with their goal of staying up to date on the latest technology and offerings known to enhance patient care. With its responsive website design, patients can now access a wealth of orthopaedic care information on the website in a convenient format that adjusts to fit the viewer's internet-compatible device.
The practice's new website was designed to be an educational resource for patients seeking information about orthopaedic surgery and various orthopaedic care options. Whether a patient is looking for what their symptoms may indicate, what a specific procedure entails, or the latest orthopaedic news, they can find it all in the organized drop-down navigational menus of the website.
Furthermore, current and prospective patients can more easily browse through pages of the site on any Internet-compatible device, as the design is responsive. This means the website automatically adjusts to fit the screen dimensions of any device with Internet capability – including smartphones, tablets, laptops, and desktop computers – offering a more user-friendly experience for each visitor.
The Quad Cities orthopaedic surgeons worked closely with medical website design company Rosemont Media to create the attractive, user-friendly design for their new site. From enhanced design elements to the implementation of quality SEO strategies, each feature of the site is intended to help patients more easily find the information for which they are looking, ultimately making the online research process more rewarding.
About Orthopaedic Specialists, P.C.
Orthopaedic Specialists, P.C. is composed of four orthopaedic surgeons and an experienced team of medical professionals. Each surgeon is board certified and fellowship trained, which leads to the advanced care provided by the practice and high standards upheld by the group. Drs. John Hoffman, Tuvi Mendel, Tyson Cobb, and Michael Dolphin have been extensively trained in their respective fields and strive to utilize the least invasive treatments possible to properly care for patients' injuries and conditions. The doctors are available for interview upon request.
The practice can be reached online at osquadcities.com and facebook.com/osquadcities.